"Workplace Awesomeness" Bracket Ranks 32 Items Employees Value Most; "Above Average Wages" Secures No. 1 Spot
Quantum Workplace asked more than 21,000 employees to rank the items they find most important in the workplace.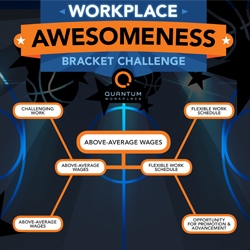 Omaha, NE, April 07, 2015 --(
PR.com
)-- Out of 32 possible choices, what employees value most in a workplace is above-average wages, according to a recent study by Quantum Workplace, the workplace survey company behind Best Places to Work.
The study asked employees to rank qualities that make a workplace great using a bracket-style selection process. The 32 choices included items such as feeling respected at work, opportunity for development and training, and coworkers who are fun to work with.
"This survey was a good reminder of the importance people place on pay," said Jason Lauritsen, Director of Best Places to Work at Quantum Workplace. "When people feel that their pay isn't adequate, it becomes their primary concern and an area of dissatisfaction."
The "final four" items were: above average wages, a flexible work schedule and opportunity for promotion and advancement, and work that is challenging.
"It was exciting to see 'work that is challenging' in the final four," Lauritsen said. "I think managers often underestimate how much employees like to do work that stretches them and causes them to grow. Turns out, being challenged in a positive way at work is highly valued."
Other highlights from the study include:
--Among the final four options, those who selected "above average wages" (ultimately, the champion) were actually the least engaged (63.5 percent engaged). Those who chose "work that is challenging" as the winner were 21 percent more engaged (84.8 percent engaged).
--"Flexible work schedule" was selected more often by females at a rate of 2:1 compared with males in the final round (12.6 percent for females versus 5.5 percent for males), despite sharing nearly identical results in the opening round.
--Managers are more likely to want autonomy compared with individual contributors. In the final round, 78 percent of managers chose "a supervisor who gives you freedom to do tasks your own way" compared with 69 percent of individual contributors.
About the Survey
A Quantum Workplace research panel of nearly 21,000 employees were invited to participate in the 2015 Workplace Awesomeness Bracket Challenge. Nearly 1,300 employees completed the survey. Respondents represented both men and women, as well as a wide range of ages, education level, and tenure.
About Quantum Workplace
Quantum Workplace is an HR technology company that serves more than 5,000 organizations annually through employee engagement surveys, action-planning tools, exit surveys, peer-to-peer recognition, performance evaluations, goal tracking, and leadership assessment. For more information, visit www.quantumworkplace.com.
Contact
Quantum Workplace
Jamee Kugler
888-415-8302
www.quantumworkplace.com

Contact