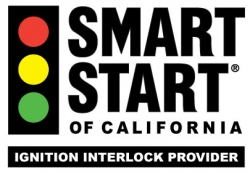 Los Angeles, CA, April 07, 2015 --(
PR.com
)-- Through the month of April 2015, Smart Start of California will be offering free ignition interlock installations and a discounted monthly lease of $59.95 to all new customers in Los Angeles, Tulare, Alameda, and Sacramento counties, the four counties participating in
California's Ignition Interlock Device Pilot Program
. The program is designed to prevent convicted DUI offenders from getting behind the wheel while intoxicated. All of Smart Start of California's ignition interlock devices are certified by the State of California and the National Highway Traffic Safety Administration (NHTSA).
California's Ignition Interlock Device Pilot Program began July 1, 2010 and will continue to be in effect through December 31, 2015. The pilot program sets up a number of stipulations that must be completed before a driver convicted of a DUI can get their license reinstated. In Los Angeles, Tulare, Alameda, and Sacramento counties, a driver who is convicted of a DUI must abide by the following:
· -Have a state certified ignition interlock device is installed in vehicle;
· -Complete an alcohol education program;
· -Show proof of California auto insurance;
· -Pay all reinstatement fees and a $45 administration fee.
If you have been recently convicted of a DUI in the state of California in Los Angeles, Tulare, Alameda, or Sacramento counties, you will be required to install an ignition interlock device. The ignition interlock device will be wired into the ignition of your vehicle and will require a breath test before your car can be started. If the ignition interlock device detects alcohol (based on limits set by the state) on the breath sample that is supplied, the vehicle will not start. If no alcohol is detected the vehicle will start and the driver will be required to submit to rolling retests throughout the duration of the drive. If the driver does not submit to the retest the vehicle will not suddenly stop, it will record the time of your failed retest.
Studies show that most drunk drivers are repeat offenders, so the installation of an ignition interlock device helps prevent a drunk driver from getting behind the wheel. States that have passed laws requiring ignition interlock devices for all convicted drunk drivers have seen a 30 percent decrease in drunk driving related deaths. Many states suspend the licenses of those who drive drunk, but 3 out of 4 drivers continue to drive on those suspended licenses. Drunk driving kills approximately 10,000 people each year, and injures hundreds of thousands. Ignition interlock devices help to remove drunk drivers from the road and keep all drivers as safe as possible on the roadways.
Smart Start of California has been successfully providing ignition interlock devices for the duration of the Ignition Interlock Device Pilot Program. Smart Start of California provides easy-to-use ignition interlock devices, 24/7 bilingual customer service, many service shop locations, and quick installation with scheduling flexibility, and no hidden fees. Smart Start of California prides itself on their top of the line equipment with the latest in ignition interlock device technology. To claim this promotion call (866)394-4662.