Water from Air Systems Installed in Northern Iraq Homes
Atmospheric Water Solutions Provides Water to the Kurds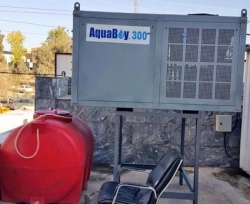 Ft. Lauderdale, FL, April 30, 2015 --(
PR.com
)-- Atmospheric Water Solutions (AWS), the leader in all solutions for producing and distributing water from air generators, has shipped and successfully installed two commercial Aquaboy 300's in Northern Iraq. With both machines combined, they will produce up to 600 gallons of pure drinkable water from the air per day.
"The water shortage is a real problem in most parts of Iraq as a large part of the country is desert. But the existing networks have also suffered from lack of maintenance or by being destroyed during the previous war and current conflicts," said Cedric Turlan, information officer for the NGOs Coordination Committee in Iraq (NCCI).
The Middle East has experienced many environmental concerns lately. Drinkable water resources are becoming increasingly scarce, especially for the millions of people who already lack access to sanitary water. Iraq among other countries including Yemen require global, immediate attention. Beside their neighboring location , one shared factor of all these countries is their lack of water resources and poor water management. The same problems are reaching across to the United States as well.
The Aquaboy 300 is just one of the mid-sized units that AWS produces. It is capable of manufacturing up to 300 gallons a day by extracting the moisture directly from the air through the process of condensation.
"The Middle East has countless struggles with its water resources, and the region needs more than one solution to generate a positive environmental position for the future," says Howard Ullman president and CEO of Atmospheric Water Solutions. "Water from air generators are considered part of the water scarcity solution."
With sales offices over 30+ distributors globally and OEM factories in the U.S., India and South Korea, Atmospheric Water Solutions Inc., is the leading supplier of atmospheric water generators in the world.
For more info about AWS visit
www.atmosphericwatersolutions.com www.twitter.com/waterfromairaws
About Atmospheric Water Solutions, Inc.
One of the original patent holders of atmospheric generation technology developed in the late 1990s, produces systems that make pure water from air through their patented process of condensation and then processing that water through a multiple filtration system. The systems come in all sizes and are scalable by design or linking units into a series. These machines serve homes and offices, oil and gas exploration, agriculture, mining, military, hospitals, schools, municipalities, and humanitarian efforts.
Contact
Atmospheric Water Solutions
Howard Ullman
954-306-6763
atmosphericwatersolutions.com
954-261-6304

Contact