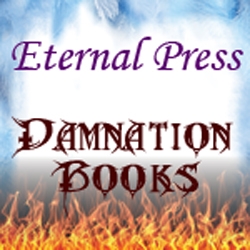 Santa Rosa, CA, April 29, 2015 --(
PR.com
)-- William and Kim Richards Gilchrist work tirelessly at showcasing new
and returning authors.
Recently, the Publishers have released audible titles. Autographed copies of paperbacks are available through the eBay Store at http://www.ebay.com/usr/ep-dbbooks.
Releasing from Eternal Press –
• "Scent: Animal Trilogy"
Book Two of the Animal Trilogy Series by Jacqueline Paige
Paranormal Romance / Shifter
• "Even Demons Dream" by Andrea Crisp
Fantasy/Paranormal Romance
Releasing from Damnation Books –
• "Bloodshed on the Setting Sun" by Penny Cockrell
Dark Fantasy/Western/Weird West meets the Fairy Realm
• "The Beast of Bradley Downs" by Stephanie O'Hanlon
New Adult/Werewolf/Horror/Paranormal
E-books are available in epub, pdf and mobi formats to accommodate popular e-readers. Titles are also available at Amazon, Kindle, B&N, Nook, iTunes, Omni-lit, All Romance and other fine e-tail stores.
Find them on FaceBook – Eternal Press & Damnation Books
Follow them on Twitter @eternalpress @damnationbooks
On Google Plus as Damnation Books and Eternal Press (Combined)
Shop at their websites at EternalPress.biz and DamnationBooks.com and use code 61NF17DV2LEX for 50% off all titles at checkout.
For review copies contact EternalPressPromotions@gmail.com.