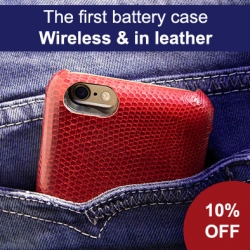 Luzern, Switzerland, May 05, 2015 --(
PR.com
)-- A new start-up from Switzerland, has just launched new cases for iPhones, which provide an extended battery, the wireless charging, both in a slim and fashion leather design.
Many of us have seen battery cases but adding leather to it and integrating the wireless charging offer benefits & performances not seen before in the wearable tech.
The wireless charging is actually a trend in Europe and Armure has seen the wind of change coming, and offers a good integration for iPhones of this Qi wireless technology. This Qi wireless technology is already compatible with IKEA furniture (tables and lamps), and offers to the Armure iPhone cases the same compatibility that we can see with the Samsung S6, or other Android smartphones.
In order to see Armure cases and help this start-up to begin a new trend in wearable tech, you can donate $1 or even book your own Armure case now here:
http://igg.me/at/armure/x/9444362