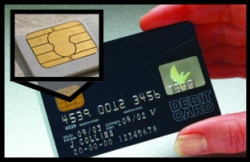 Calabasas, CA, May 05, 2015 --(
PR.com
)-- Emerging as one of the best credit card processing companies in the state, Encore Cardservice has reached out to interested businesses and merchants last Saturday with their new program; the EMV Installation Tutorial. The renowned payment processing firm is offering tutorials on how to properly migrate transactions involving traditional swipe cards to cards with chip technology – free of charge.
As credit card companies work harder to produce EMV qualified cards to reach their 70% quota by fall of 2015, new terminals accepting this form of payment are required to be installed all over the country. In line with this, Encore Cardservice President Nasir Shakouri launched this program to help companies both large and small prepare for the changes to come. "By taking part in our tutorials, not only will you be able to upgrade and protect your business from fraud, but your customers receive top quality service as well. Best of all, it's free!" he states in his opening speech at the latest Encore Cardservice conference in Los Angeles, CA.
Credit card giants EuroPay, MasterCard, and Visa have teamed up to create a conglomerate group EMV, manufacturing special chips coded with intricate technology. These chips are found in their credit cards, and play a vital role in preventing hackers from obtaining personal information during transactions.
EMV credit cards are currently the most accepted form of international payment. EMV continues to sweep the U.S. as well, as a Chip Liability Shift is soon to be implemented by payment networks. The Chip Liability Shift states that merchants who do not have chip-enabled terminals after October 2015 will be held liable for any incidence of fraud involving their transactions.
"We are working very hard to spread awareness and teach businesses how to make the swap in several cities across the state," says Nasir Shakouri. "Too many people have lost money because of these scams, and it's about time they swap to a more reliable service. The chips in these cards are crucial to the safety of their personal information."
While using EMV cards stands as one of the safest ways to purchase goods and exact deals, it is also more convenient. Reception keeps to a positive this week, as several business owners take this opportunity to upgrade their terminals. "All my customers have to do is dip their cards. It's pretty easy. Plus, that extra layer of security gives us less to worry about," says Brian Lee, a recipient of the Encore Cardservice EMV Installation Tutorial.
The Encore Cardservice Installation Tutorial will be available until mid-October, 2015, and is available to all businesses looking to improve their payment systems.