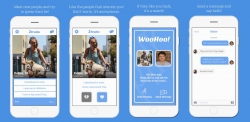 Santa Monica, CA, May 06, 2015 --(
PR.com
)-- Now available in the App Store on iTunes, 2Truths is the new dating app that turns conversation into a game and makes it fun and easy to connect with someone new. Download 2Truths at
http://ow.ly/Mj39M
.
2Truths combines the familiar icebreaker game, Two Truths and a Lie with an easy-to-use interface that allows users to mutually match before they can message each other.
"2Truths and a Lie is short and sweet. It rewards instantly with its fun guessing game, while also giving romantic hopefuls a chance to meet new people and find a match," said a spokesperson from KillerStartups.
Users upload photos along with two truths and one lie about themselves, challenging others to guess their lie. The app also includes a feature that provides fun thought-starters to help users set-up their profile.
"Online dating has seen a lot of innovation in the areas of browsing and matching, but we feel there's a big opportunity to re-imagine the way conversation takes place," says Erik Nielsen, Co-founder & CEO.
2Truths emerged from private beta testing in mid-April, and is now available for iOS users in the App Store. Plans are underway for an Android version to be released later this year.
"The biggest feedback we received from our beta testers was just how much someone's personality comes across in our game," says Tyler Adams, Co-founder & COO. "People who matched were immediately messaging each other asking about an interesting truth or laughing together about a funny lie."
The company will be hosting a series of launch parties beginning in Los Angeles, CA. If you're in the area and would like an invitation, you may register on the company's website at
http://www.2truthsapp.com/
or by emailing love(at)2truthsapp(dot)com with the words "launch party."
For more information about 2Truths, please visit: http://www.2truthsapp.com/blog/media-kit/