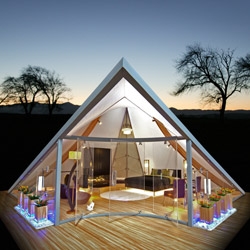 Avila Beach, CA, May 05, 2015 --(
PR.com
)-- Longtime San Luis Obispo County resident, Bill Wesnousky, is unveiling his architectural design, to discerning customers.
Fabriq (rhymes with mystique)
is a permanent accessory structure designed to aesthetically enhance residential, corporate and commercial properties. The translucent, curvilinear tensile structure provides an array of uses; personal retreat, artist studio, office, yoga studio, wine tasting, boardroom, etc.
"I refer to the design as
a 'temple fantastique'
as it was initially designed to be a temporary fabric church," said Wesnousky. The original designer was Bill Moss whose fabric artistry revolutionized tent designs beginning with his invention of the "pop" tent in 1955. Moss' tents were displayed at the Louvre in Paris, the Smithsonian in Washington, D.C. and the Museum of Modern Art in New York City.
In 2000, Wesnousky reached out to Bill Moss' third wife, Sandy, to inquire if Bill had developed any large designs that had never been built. Wesnousky flew to Phoenix to meet Sandy and see the design. He was inspired and subsequently acquired the design which consisted of a small model constructed of a lightweight cotton cover, wood framing and a thin metal arch with netting.
Wesnousky sought out and retained the services of fabric and glass industry leading architects and engineers to incorporate modern building materials with the objective of creating a design that was permanent, contemporary and timeless. Another goal was to replicate a
"'Life in a Picasso' experience
which was how one writer described Moss' tent designs," said Wesnousky.
Fabriq has a floor plan of 576 square feet. The height of the entry is 10' and it rises to a height of 19' at the peak of the roof arch. The exotic tensile structure is comprised of Tenara fabric (used on Wimbledon's Tennis Center Court roof), innovative glass window walls, a curved tempered glass entry with floor to ceiling pivot panels, polished stainless steel framework and a curved wood roof arch.
Wesnousky is the founder of the Fabriq luxury lifestyle brand and in conjunction with his design team, is co-designer of the Fabriq tensile structure. Acting as Fabriq's sole sales representative and coordinator, he personally travels to meet with prospective clients at their individual sites. He oversees each aspect of a project from beginning to exquisite completion. Acquiring a Fabriq is a process of six or more months which can include additional peripheral design work, permitting and installation.
Describing his enterprise as an emergent luxury brand, Wesnousky notes that with luxury brands "size doesn't matter" which is good as he is presently the sole proprietor.