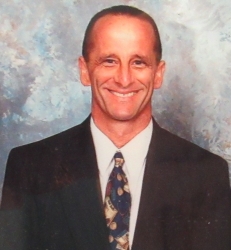 Sherman, TX, May 07, 2015 --(
PR.com
)-- Dr. Mark Buckner, a board-certified emergency medicine doctor from Sherman, Texas, has been named "Physician of the Month" by the
American College of Urgent Care Physicians
(ACUCP), an advocate for patients and urgent care providers across the United States.
"Dr. Buckner beat the odds to become a physician," said Dr. Ali, president of ACUCP. "He possesses an enviable work ethic and a perspective on life that we all should emulate."
Dr. Buckner owns and directs One Medical Inc. Urgent Care, a walk-in clinic on Cottonwood Drive in Sherman, Texas. Prior to One Medical Inc., Dr. Buckner served as chief of medicine and director of the emergency room at Denison's Texoma Medical Center, an acute care hospital with a medical staff of more than 200 doctors.
How does this married man with four children and a pack of grandkids find time to balance family life, his career and his passion for endurance sports?
"My personal secret is that I've been blessed – and cursed at times, but mostly blessed – with a good upraising and work ethic," says Dr. Buckner. "Needing a challenge, I always have a goal in front of me that I want to reach. A goal without a plan is just a wish."
An ACUCP member, a Fellow of the American Academy of Emergency Medicine, Dr. Buckner admits that early in his life he took his education less seriously. While he graduated from the University of Texas with a bachelor's degree in 1984, it took him five years and his grades were less than stellar. In fact when he first turned his attention to the pursuit of medicine, he was told he "would never make it."
The naysayer, however, did not know about Buckner's inner grit, a strategy for life he now says boils down to "The Three DPs":
· Determine your prize
· Develop a plan
· Disciplined persistence
After doing some additional prerequisite coursework, Buckner applied to medical school and was accepted in 1987 to Texas Tech University School of Medicine. He graduated fourth in his class with honors in May 1991. While at medical school, Dr. Buckner earned the institution's Biochemistry Award with a perfect grade and was a member of the Alpha Omega Alpha Honors Medical Society.
After medical school, Dr. Buckner was an emergency medicine resident at the University of Arkansas for Medical Sciences and served as chief resident in the Emergency Medicine Program in his final year. He is certified by the American Board of Emergency Medicine.
His next two decades were spent practicing urgent care medicine, affiliated with the Medical Center of Plano and the Lake Granbury Medical Center. He also carved out time to raise a family of four with his wife, Sandy, as well as ski, hike, hunt and train for marathons and triathlons – including three full-distance Ironman triathlons, 11 Boston Marathons in a row, and a 50-mile race on his 50th birthday.
"Persistence is the key to success and always going after more," says Dr. Buckner, simply.
Dr. Buckner, a member of the International Association of Health Care Providers, is the medical director of the Grayson County Children's Advocacy Center and is the preceptor of the University of Texas nurse practitioner program at Tyler. He also is a motivational speaker and has been used as an expert witness by Dallas' Schell Cooley Law Firm.
"Knowing that all the years I spent in training saved a life or made someone who was sick well again, is the best feeling," says Dr. Buckner. "I compare the feeling of literally saving a life – I mean someone who was going to die in a minute or so if I had not been there – with the feeling of training 10 months, seven days a week, 25 hours a week, then finishing an Ironman. These are the two things that cannot really be put into words. The feeling is indescribable and hard to wrap your brain around – even after reflection."
With ACUCP's April 2015 "Physician of the Month" recognition, Dr. Buckner will be among the ACUCP members considered for this year's "Physician of the Year" award.
About The American College of Urgent Care Physicians:
The American College of Urgent Care Physicians is a nonprofit, scientific and scholarly consortium, which represents urgent care providers all across the United States of America. It seeks to enhance medical education, improve patient care, promote leadership, and advocate for urgent care physicians at the state and federal levels.