Clifford the Gator Bobbleheads Raising Funds for Gifford Elementary
Limited Edition Clifford the Gifford Gator bobbleheads are now available at Gifford Elementary School and www.CliffordBobbles.com.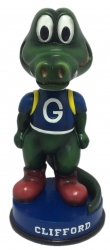 Milwaukee, WI, May 08, 2015 --(
PR.com
)-- Today, the National Bobblehead Hall of Fame and Museum announced the first ever Clifford the Gifford Gator bobblehead, which is raising funds for Gifford Elementary School in Racine. Only 1,000 of the individually numbered bobbleheads have been made, with the bobbleheads now available for $15 at the main office and online at www.CliffordBobbles.com. Five dollars from each bobblehead sold will benefit Gifford Elementary, with funds expected to be used for student incentives, professional development, and family activities.
"When I heard about the vandalism to Gifford's mascot, Clifford, a little over a year ago, I immediately thought that a bobblehead would make for a great fundraiser," said Phil Sklar, Co-Founder and CEO of the National Bobblehead Hall of Fame and Museum. "I was excited that the Principal was on board from the beginning, and it's great to see the process come full circle."
Clifford the Gator has been the school mascot for Gifford Elementary for over 20 years, and Clifford has stood outside Gifford since 2002 when third-grade students worked with a local artist to design the statue. The entire community was shocked when someone vandalized the statue of Clifford by removing his head on March 25th, 2014. The head was returned on April 14th, 2014, but it was severely damaged. Thanks to the PTA as well as an anonymous donor, Gifford's head was repaired and reattached in September 2014.
"The students at Gifford are so proud of Clifford, our beloved mascot. When they see the high quality memento they can purchase, as a keep sake memory of their earliest years in education, they will cherish him, too," said Les Hunt, Principal at Gifford Elementary.
"This will be a great memento for current and former students, teachers and administrators and anyone else that is or has been affiliated with Gifford," said National Bobblehead Hall of Fame and Museum Co-Founder and President, Brad Novak. "Bobbleheads are very popular and we encourage people to get these now to ensure they don't miss out!"
Clifford bobbleheads, which cost $15, can be purchased at the main office of Gifford Elementary or at www.CliffordBobbles.com using all major credit cards and PayPal or by calling the National Bobblehead Hall of Fame and Museum at 800-414-1482. Bobbleheads can be picked up at the school for no cost or can be mailed anywhere in the U.S. for $8 regardless of the number of bobbleheads ordered.
About Gifford Elementary School:
Gifford is the largest elementary school in the district. Gifford's "school for the future" has directed the educational program for several years, and in its mission the school, in preparing students for the future, identifies "skills that will enable children to not only adapt to changes of the future but create their own futures."
About the National Bobblehead Hall of Fame and Museum:
The National Bobblehead Hall of Fame and Museum is headquartered in Milwaukee, Wisconsin, and will feature the world's largest collection of bobbleheads and bobblehead-related exhibits when it opens in 2016. The Hall of Fame and Museum also designs, produces and markets a wide variety of bobbleheads. More information is available at www.BobbleheadHall.com.
Contact
National Bobblehead Hall of Fame and Museum
Phil Sklar
800-414-1482
www.bobbleheadhall.com

Contact