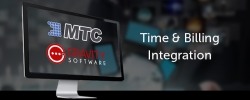 Los Angeles, CA, May 14, 2015 --(
PR.com
)-- MTC's Time & Billing application in conjunction with Gravity's accounting and business management software offers cloud-based end-to-end professional services enterprise practice management. MTC's and Gravity's solutions makes it simple for Small to Medium size businesses (SMBs) to operate from anywhere, at any time without all the startup costs associated with other accounting applications. SMBs in professional service industries can take advantage with these innovated tools to manage and grow their businesses.
MTC's Time & Billing application provides services companies with a complete solution that is easy-to-use. Key benefits include:
- Proven Sales, Marketing, and Customer Service Functionality
- Easy-to-Use Project and Task Management
- Innovative Resource Scheduling and Calendaring
- Flexible Billing Rate and Costing
- Comprehensive Accounting and Business Controls
- Insightful Practice Reporting and Analysis
"MTC's Time and Billing solution provides SMBs a simple and efficient way to track and bill time with Gravity's cloud financial solution," said Darryl Henderson, CEO of MTC. "Now you can manage your resources in Microsoft Dynamics CRM activities to automate your billing through Dynamics CRM solution."
"We are excited to have the MTC's Time and Billing application integrated to Gravity," said John Silvani, President and CEO of Gravity Software. "This allows companies to have all of their time and billing, accounting and CRM functions on one platform. MTC has been developing enterprise applications on CRM for years. They are a great addition to our marketplace."
About MTC
Management Technology Consulting (MTC) is the industry leading Microsoft Dynamics CRM Partner in a unique affordable product solutions and outsource engineering services business model. Built on global resource value, state-of-the-art process and performance based technologies, MTC delivers the absolute best Microsoft Dynamics CRM customization value to clients globally. For more information, visit www.mtccrm.com. Follow us on Twitter.
About Gravity Software
Gravity Software, LLC (Gravity) is an online cloud business management software company that provides financial business solutions exclusively written for smart businesses. Gravity's robust solution is built in the cloud on the Microsoft Dynamics CRM platform to give businesses the distinct advantage of having your Financials and CRM fully integrated on one platform. More than just accounting, Gravity provides businesses with the necessary tools and processes to help drive sales, improve customer service and increase productivity. Gravity Software - Simply Innovative Business Management. www.go-gravity.com. Follow us on Twitter, LinkedIN & Google+, Subscribe to our YouTube Channel, and Like us on Facebook.