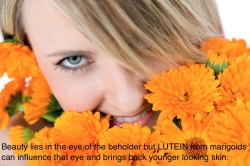 Mountain Lakes, NJ, May 27, 2015 --(
PR.com
)-- On-In Beauty System Helps Roll-Back the Clock on Fine Lines and Wrinkles
European Study Reveals New Treatment Approach for Younger-looking Skin
Scientists at the University of Naples, Italy have discovered that Lutein, a long known nutrient for benefiting eye health, has powerful hydration and elasticity benefits for skin both as a cream and a dietary supplement. Lutein, the same antioxidant that prevents marigolds from wilting under direct sunlight, will also help prevent fine lines and wrinkles.
Introducing On-In Beauty®, a unique skin care system that achieves healthier skin from the outside and inside with a nutrient-rich "On" your skin cream and a natural "In" your skin dietary supplement. On-In Beauty® was developed to help you achieve healthier, younger-looking skin.
Lutein achieves fast absorption into skin cells to quench the free radicals that can lead to wrinkles and fine lines. Lutein, when used together in both a topical cream and a dietary supplement, produce dramatic improvements in skin hydration, elasticity and sun protection in just 2 weeks.
The combined effect yielding:
· 50% increase in skin lipids
· 60% increase in skin hydration
· 600% increase in UV protection
The proof is in the results
"I purchased the On-In Beauty System and, like it said, in about two weeks I had rid myself of about half the lines on my face-mostly smile lines and crow's feet. I just couldn't believe it, each day was better than the last. My husband thought I lost my mind when I came out of the bathroom giggling that I was getting younger again. If I needed to wear makeup it didn't clump. I have very sensitive skin and it didn't give me hives, blisters, or pimples, and it actually soaked in and didn't leave my skin feeling greasy. I love this product!! This is one product that actually does what it says it's going do, and the Lutein pills are also very good for your eyes." – Valerie, consumer
"This cream does an excellent job moisturizing, leaving my skin moist all day long, even beneath my eyes. It has no fragrance, and spreads wonderfully. It absorbs quickly, with no greasy feeling. I feel my skin looks more plump and youthful with this product, and I have become a faithful on-in user. Just take note that while it offers some UV protection, you still need to use a sunscreen with it (this info comes from the manufacturer)." – Jennifer, consumer
About On-In Beauty®: On-In Beauty® contains a nutrient-rich "ON" your skin cream along with a natural "IN" your skin dietary supplement. A 30-day supply is just $30, far less than a facial or botox treatment. Experience the magic in marigolds that will bring back the skin of your youth with the On-In Beauty® system.
Web page: http://www.oninbeauty.com/
You Tube: https://youtu.be/je7sIVcpe6U
Facebook: https://www.facebook.com/pages/On-In-Beauty/278766902185316
Amazon Link:
On-In Beauty System