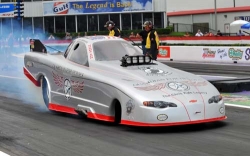 Dallas, TX, May 23, 2015 --(
PR.com
)-- When Nancy Matter flipped the calendar over for the start of 2015, little did she realize the events that were about to unfold for the upcoming race season.
After a most successful return to the Alcohol Funny Car wars in 2014 from an almost six year layoff, Nancy and the NTX Diesel crew were looking forward to continuing the contest in 2015.
But, unbeknownst to Nancy a series of unique and personal encounters were about to unfold that would reshape not only her racing efforts for the upcoming season, but her energy level as well.
Through an NTX Diesel customer and an idle conversation, a connection was made that now has turned into an alliance for the 2015 racing season, an alliance that has brought a new awareness of a situation that affects the entire country.
"We've been blessed to be put in contact with Wayne, Deby, Jeff and Amy Kyle and the Guardian for Heroes Foundations," Nancy stated, "And are proud to become one of the outlets that the foundation has chosen to carry their message of Restoring Hope, Renewing Spirits and Replenishing Energy for combat Vets transitioning to post military life."
The Guardian for Heroes Foundation was founded by CPO Chris Kyle, U.S. Navy Seal in 2012 after his return from a fourth and final tour in Iraq and his effort to continue serving his country by assisting his brothers-in-arms that were having difficulty in acclimating back to domestic life.
After his untimely death, his family (Wayne, Deby Jeff and Amy) has taken up the cause of Chris's foundations to continue to raise awareness of the challenging situations our service men and women face daily, including our countries crisis of epidemic proportions where 22 American soldiers are committing suicide per day including 7 active service personnel suicides per week.
"Honestly, we have no idea where this alliance will take us, but we're more honored than anyone will ever know and certainly look forward to working with the foundation and to raise awareness."
The Team is gearing up the Chris Kyle - Guardian for Heroes Funny Car to head out at the beginning of June for Tulsa and looking forward to their Fourth of July Celebration in Norwalk, Ohio and then racing in Chicago to finalize their July portion of the 2015 Scheduled events.
"We would love to see everyone come out and show their support for the Foundation as we continue these next three races. And just to be clear," Nancy added, "This is an alliance, not a sponsorship. We are working with the Kyle Family and these foundations to help the cause and to raise awareness. Through circumstances that most wouldn't understand. All I can say is I'm thankful for the opportunity that we've been blessed with and look forward to doing all we can to assist the foundations."
If you know a Combat Veteran who is struggling with the challenges of returning to post military life and or would like to help these foundations help those who have served us, please log on to:
www.GuardianforHeroesFoundation.org or
www.ChrisKyleMemorialBenefit.com