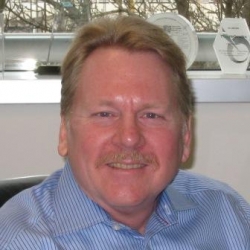 Salt Lake City, UT, May 27, 2015 --(
PR.com
)-- Recursion Pharmaceuticals, an emerging biotech company combining high-throughput functional genomics, cutting-edge imaging, and advanced computation to accelerate drug discovery for genetic diseases, today announced that H. Perry Fell, Ph.D., MBA, has joined the Board of Managers of the company.
"Perry is a seasoned biotech executive with a robust scientific background, and as such he is able to think strategically about both business and scientific issues relevant to our continuing success; not just as independent matters, but at their intersection," said Chris Gibson, Ph.D., Co-Founder and CEO of Recursion Pharmaceuticals. "He has seen innovative deals and novel science throughout his career and he has a track-record of success in navigating the growth and commercialization of such technologies. He has been a trusted advisor to the company for more than a year, and we are glad to be able to extend and expand our relationship."
Dr. Fell has four decades of experience in biotechnology. After earning a Ph.D. in Immunology from the University of Texas Southwestern, Dr. Fell joined Bristol-Myers Squibb where he rose to become the Director of Molecular Immunology at their Pharmaceutical Research Institute from 1989 to 1997. He completed an MBA at Columbia in 1997, and went on to Co-Found
Seattle Genetics
in 1998, where he served as Chief Executive Officer until 2002 and then as Chairman. From 2004 to 2009, Fell served as Chief Executive Officer and Director of
NanoString Technologies
. He currently serves on the board of
Prevencio, Inc.
, a development stage diagnostics company.
Fell added, "The team here at Recursion has chosen to tackle a tremendous unmet clinical need in the form of rare genetic disorders that together affect hundreds of millions of people, mostly children, worldwide. I am very excited to have the opportunity to join their efforts at the front lines of addressing this diverse group of diseases, each caused by the mutation of a single gene."
Recursion has been developing its Deep Phenotype Drug Discovery Platform over the past 18 months and is now in the process of negotiating its first deals to harness this technology for systematic repurposing of partner's shelved pharmaceutical assets. Dr. Fell joined Co-Founders & CEO Chris Gibson, Ph.D., CTO Blake Borgeson, and CSO Dean Y. Li, M.D., Ph.D. on the Board of Managers effective 5/22/2015.
About Recursion Pharmaceuticals - Recursion Pharmaceuticals, LLC, is a drug discovery company founded in 2013 that seeks to apply an innovative approach to drug discovery to rapidly identify many new treatment strategies for genetic diseases. The company's focus on rare genetic diseases is much-needed, as there are more than 5,000 such conditions that together affect millions of Americans, and more than 95% of these diseases have no approved therapy. Many of these diseases specifically affect children. Recursion's novel drug screening platform combines experimental biology and bioinformatics in a massively parallel system to quickly and efficiently identify potential therapeutics. The core of the approach revolves around high-throughput automated screening using microscopy images of human cellular models of disease. Rich data from these assays is probed using advanced statistical and machine learning approaches, and the effects of thousands of known drugs and shelved drug candidates can be investigated efficiently to identify those holding the most promise for the treatment of any one rare genetic disease. Recursion is a proud recipient of a Direct to Phase II Small Business Innovation Research Award from the National Center for Advancing Translational Sciences (NCATS) of the National Institutes of Health (NIH).
See
www.recursionpharma.com
for more information.
Contact: Recursion Pharmaceuticals, LLC.
Chris Gibson, CEO.
Phone (801) 587-1629
Email: chris.gibson@recursionpharma.com