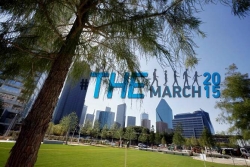 Dallas, TX, May 27, 2015 --(
PR.com
)-- In the 1980's, a man named David Allbritton started a movement where thousands of people marched through a city at a time, starting with Dallas. David could get people excited about an acorn falling off a tree, so when he unleashed the cause of this brand new march, no wonder people flocked to be a part of it. He gathered 7,000 people in Downtown Dallas in the mid 1980's. After that, he took it around America, then around the world. He even had a March with 20,000 people in Ethiopia.
Unfortunately, David Allbritton passed away in 2011 of lung cancer (never smoked) at age 57. One of his children, Matt Allbritton, has made the decision to bring the march back to Dallas as a tribute to his father. "With all of the negativity going on in the streets of America today, I thought this would be a great way to bring back something positive."
The subject of this march is just like his Father's… Jesus.
Matt has recruited top Christian artists David Dunn and Abandon and partnered with many businesses and ministries in DFW.