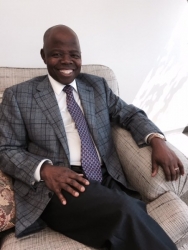 Houston, TX, June 03, 2015 --(
PR.com
)-- Vincent O. Ebuh of Victoria Island, Lagos State, Nigeria has been included in the Strathmore's Who's Who Worldwide Edition for his outstanding contributions and achievements in the oil and gas industry.
About Vincent O. Ebuh
Mr. Ebuh is a Petroleum Engineering Consultant with over 30 years experience in the oil and gas field. He is the Executive Chairman/CEO of Petrolog Group an International Oil Service Company providing Drilling, Surface Logging, Geophysical Exploration, Subsea Diving, Subsea Pipe Laying, Engineering Design and Project Management Services. Mr. Ebuh is also the Executive Chairman/CEO of Petrolog Limited, Petrolog International, George Stevens Resources Houston-Texas, Global Oceon Engineers Nigeria Limited and Petrolog De Venezuela. He is responsible for strategic planning, managing daily operations, financials, profit and loss and managing 650+ employees. He co-founded Zenith Bank PLC Nigeria and serves as Chairman of Interstate Data USA Inc. Mr. Ebuh published a paper titled "Nigerian Entrepreneurs in the Oil and Gas Industry; Problems, Challenges and Prospects, presented on the occasion of the Nigerian Association of Petroleum Explorationists' Technical Meeting" and also "Solutions to the Issue of Perennial Shortages of Petroleum Products in Nigeria" presented to the Deputy President of the Senate of the Federal Republic of Nigeria and Senate Committee on Oil and Gas.
He received an Honorary Doctorate in Management from Commonwealth University of Belize in 2011 and received a Lifetime Achievement Award in the Oil and Gas Industry by the Petroleum Technology Association of Nigeria (PETAN) in 2014. He is a Member of the British Institute of Management, Member of the Nigerian Institute of Management, The Entrepreneurship Institute of Houston-Texas, Fellow and Honorary Lifetime Member of the Nigerian Association of Petroleum Explorationists, Life Alumni of Stanford Business School USA, Alumni Oxford University England and Alumni Harvard Graduate School of Business USA. He was born in Alisimie, Delta State, Nigeria and obtained a Diploma in Industrial Relations, University of Ibadan Nigeria 1974, a Certificate in Business Management, University of Colorado 1982, a B.Sc. 1986 and a M.B.A. Honors 1987, Century University, California. Mr. Ebuh completed the Advanced Management Program at Stanford University 1993, Harvard Graduate School of Business (OPM) 1998, Strategic Leadership Program at Oxford University-England 2000 and Georgetown University Leadership Program 2014. Mr. Ebuh is especially proud of being the first Nigerian to start an oil and gas business in the 1980's and the first Nigerian to acquire a brand new 100% Nigerian-owned DSV Subsea Saturation diving vessel. In his spare time he enjoys swimming, football and International Affairs. For further information, contact
www.petrologgroup.com
.
About Strathmore's Who's Who Worldwide
Strathmore's Who's Who Worldwide highlights the professional lives of individuals from every significant field or industry including business, medicine, law, education, art, government and entertainment. Strathmore's Who's Who Worldwide is both an online and hard cover publication where we provide our members' current and pertinent business information. It is also a biographical information source for thousands of researchers, journalists, librarians and executive search firms throughout the world. Our goal is to ensure that our members receive all of the networking, exposure and recognition capabilities to potentially increase their business.