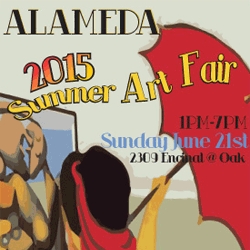 Alameda, CA, June 04, 2015 --(
PR.com
)-- Over 30 Artists Booths
Come see over 50 Bay Area artists at this free outdoor art festival. Mingle with local emerging and established artists creating unique art work during the fair. See live painting, sketching, sculpting and illustration. The festival will take place in the lot of Studio 23 Gallery at 2309 Encinal Ave between Park and Oak Streets in Alameda from 1PM to 7PM on Fathers Day.
Studio 23 Gallery Creature Feature Show
Studio 23 Gallery will be open and exhibiting the group show: "Creature Feature" with paintings, sculpture and visual art by even more bay area artists. Mythical magical monsters and playful colorful creatures. The opening reception is during the Second Friday Alameda Artwalk on Friday June 12th - the encore presentation will be during the Art Fair from 1PM-7PM.
Creature Feature Costume Contest
From 3PM-6PM will be the Creature Feature Costume Contest with prizes from Starbaby Studios Hair Salon, East End Pizza and Alameda island Brewing Company. Come to the fair dressed up as your favorite creature, or just come to witness the creatures in their natural habitat.
Open Art Studios: Backstreet Studios and The Alley
You can also visit Backstreet Studios (2309A Encinal) and see the working studio of local painter Cheryl Harawitz. "The Alley" Art Studio, owned by artist's Jennifer King and Mark Coleman will be open to the public for the first time. Come in and see the work of these two very talented Alameda painters.
Kids Creative Corner
Children are encouraged to participate in a multiple of fun art projects. There will be various activities at the Kids Corner with Alana Dill doing face painting, Heather McMurphy's "Miniature World" DIY stations and Artery Press's printmaking booth.
Coloring Contest
There will be a Coloring Contest with a variety of prizes. You can get coloring entries at many local Alameda restaurants, check www.Studio23Gallery.com for a complete list.
Giant Robot Friendly Lord Zondar
Friendly Lord Zondar, the giant metal robot, will be perched on the roof overlooking the crowd. Make sure you come by and get a photo. You can find coloring pages of Lord Zondar and the Summer Art Fair all over the east bay in selected restaurants (while supplies last).
DJ Fitz Spins
Alameda DJ favorite Fitz will be providing great tunes from 3PM-6PM.
Food and Drinks
Food will be available at the festival from Rebel Dog gourmet catering. A few steps away, their sponsor Lucky 13 will be serving up ice cold beer and cocktails.
Games, Giveaways and Prizes
To make things even more interesting they've incorporated a scavenger Color-The-Dot contest. Each artist vendor will be given a unique color. Patrons can take their Art Fair Guides to each vendor to get that color filled in. Once it is completed they can submit it to Studio 23 to be entered for a chance to win. Giveaways will be going on all day and "Check-In To Win" makes it really easy. Simply check in at Studio 23 during the fair and you could win a prize. Prizes are provided by East End, Starbaby Studio, Best Lil Pork House, Vintiq & Alameda Island Brewing Company.
There will be several raffles and giveaways with prizes provided by local Alameda businesses as well as Blick's Art Supplies.
With everything from comic book art to clothing and jewelry, to metal sculpture. Come support the local artists that make the Bay Area such a dynamic and creative place to live. There will be music and festivities all afternoon.
Art Fair information:
Including links to artwork, media files and websites can be found at Studio23Gallery.com
Festival Sponsors:
DesignQuote
DesignQuote helps people find graphic and web designers
. Do you need a logo or a website? Tell us about your project and we will connect you with the perfect graphic artists and programmers. https://www.DesignQuote.net/
Artery Press
Artery Press from Jingletown in Oakland hold regular printmaking workshops for artists of all levels. They will have a special project for the kids at the fair.
Mark Badger - Illustrator
Mark Badger has drawn many comic books of all types for Marvel, DC and others, including Batman. Currently he is adapting William Shakespeare's Julius Caesar into a graphic novel.
Himalayan Gift Shop
Located on Park Street and Pacific, browse a huge selection of handcrafted gifts and clothing imported from the mountains of Tibet.
Lucky 13 Saloon Alameda
A few steps away from the fair, stop by for Happy Hour from Noon to 5PM
Starbaby Studio
A creative hair salon and art studio. We have handmade jewelry, accessories and more. Locate on Park Street in Alameda.
Studio 23 Gallery
Alameda's coolest underground art space. Regular group shows featuring Bay Area artists. Home of Friendly Lord Zondar the giant robot, the Black Light Art Show.
Artist List
Melinda Margolis, Rita Garza, Alan Grizzell, Katie Mckinnon, Yelena Karanovich, Jeannie Hesse, Amy Burek, Jasmine Zenderland & Leo Ramos, Amy Starkey Praphantanathorn, Kristen Schonfelder, Nancy Lovelady, Carolina Tapia, Annie Horn, Bernadette Martinez of Artery Press, Jesse Brown & family, Nancy Benton, Adam Davis, Pamela Mendez, Eben Dodd, Manino Mendez, Emily Moses & Bob Main, Mikey Elliott, Allie Wadford, Matt Tacobus, Pomm Suppakijjumnong & Malaika Thorne, Mark Badger, Clair Turner, Elizabeth Turner, Jeffrey Allyn, Heather McMurphy, Wesley E. Warren & Jessica Warren of Studio 23, Alana Dill, Jennifer King & Mark Coleman of The Alley, Cheryl Harawitz of Back Street Studios & many more.
Art Fair information:
Including links to artwork, media files and websites can be found at http://www.Studio23Gallery.com
@Studio23Gallery