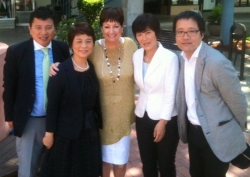 Bellevue, WA, June 04, 2015 --(
PR.com
)-- Barb Schwarz created the procedure of Home Staging decades ago when she was a successful west coast real estate agent. With a background in interior design, stage acting, and knowing how buyers react while touring homes for sale - Barb knew she had to come up with a way to convey to sellers that their homes need to be prepared.
With her concept of "The Home is the Stage® and the Buyer is the Audience," sellers understood. And her listings sold fast. Barb coined many terms and an educational process for sellers to understand the importance of preparation including, "Detail your house like you would detail your car," and "Make your house Q-tip clean."
This is just the information that four company officials from Home Staging Japan General Incorporated Association flew 18 hours to learn. Fugiko Suginohara, Representative of the Board of Directors; Yukie Noguchi, Director; Masashi Onishi, Director; and Unuma Toshihide, Auditor, along with an interpreter, invested a day with Barb learning her Staging methods and how to interact with sellers.
"The biggest questions they had for me were: How do I get people to Stage®? How do I get people to put things away, and do all that needs doing to Stage® their homes?" said Barb.
"Their market is of course different in some ways, but homes are homes and people are people. So the experiences they are having are the same I went through, which caused me to invent Home Staging," she said.
"I feel so blessed and humbled," said Barb, who is revered the world over. "I asked them what else they saw while here and they said, 'Oh, we only came here to see and meet you.'"
For information on Home Staging, locating an Accredited Staging Professional®, or how to become an Accredited Staging Professional®, visit http://www.stagedhomes.com/
Barb Schwarz, ASP®, ASPM®, AB, IAHSP®
The Creator of Home Staging®
The Creator of The CAREERBook®
CEO of StagedHomes.com®
IAHSP® Founder and Chairwoman of The Board of The International Association of Home Staging Professionals® and Foundation
http://www.iahsp.com/®
Stage®, ASP®, ASPM®, IAHSP® CAREERBook®, and http://www.stagedhomes.com/®, are Federally Registered Trademarks of StagedHomes.com®.