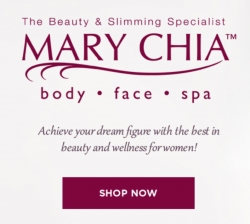 Kuala Lumpur, Malaysia, June 11, 2015 --(
PR.com
)-- Bello2, Malaysia's largest online beauty and wellness marketplace has recently announced its partnership with Mary Chia, The Beauty & Slimming Specialist, in launching a new slimming program. With more than a million hits per month, Bello2 will give Mary Chia the opportunity to instantly expand their online business to Bello2's huge customer base.
Founded in 1984 and based in Singapore, Mary Chia has been established for 30 years with a strong lifestyle and wellness market position. It is the first beauty and slimming service provider listed on the Singapore Exchange Securities Trading Limited ("SGX-ST") on 11 August 2009. The esteemed company was also one of the 2009 Singapore Superbrands Customer Choice award winners. Rising from a small home-style player to an excellent full-fledge beauty and slimming international group, Mary Chia has ten studios in Singapore and six studios in Malaysia to date. As an innovative-driven beauty and slimming specialist, Mary Chia offers fast, effective and safe treatments for the comfort and satisfaction of customers.
Bello2 Marketing Manager Fionne Loh said, "We are excited to have this strategic partnership as Mary Chia is an important addition to our collection as the brand aligns with our beauty proposition to customer - premium quality and value-added service. With this, we are definitely looking into a long term relation in strengthening Bello2 and Mary Chia brand names in the e-commerce space."
Using Mary Chia's cutting-edge technologies and professional team, the treatment consists of Body Composition Assessment, VibeFit Therapy, Air Pressure Lift & Firm, Silhouette Sculpt Body Wrap and Thermal Detox Therapy and last approximately an hour. Customers can expect this procedure to improve blood circulation, enhance silhouette figures, accelerate fat burning and flush excess water from the system. Customers are entitled to a 1-Week Slimming Pass and a RM50 Cash Voucher worth RM2,800 at a mind-blowing RM88!
Customers can find this fascinating and irresistible deal available now on Bello2 at http://www.bello2.com/mary-chia/body/slimming today.
About Bello2
Bello2 is the largest online marketplace to sell and to buy beauty & wellness deals in Malaysia. For customers, we ensure a convenient and trusted platform for discovering great values on daily deals. For merchants, they own a webstore with Bello2 and we help to grow their businesses by providing solutions to attract more customers and run their businesses' more efficiently. Our deals, business solution and cost-effective marketing strategies connect customers and merchants seamlessly in a way that brings about significant value to both sides. For more info, please visit www.bello2.com.