Fiesta Mart, Inc. Renews Title Sponsorship with Houstonians Futbol Club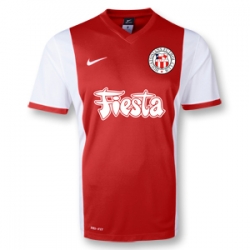 Houston, TX, June 07, 2015 --(
PR.com
)-- Fiesta Mart, Inc. a leading grocer, has announced it will renew its sponsorship of renowned Houston-Based Houstonians Futbol Club.
In a meeting between HFC executives Jose Rayo (President), Jeff Rodgers (Vice President of Operations) and Susan Ellis (Director of Marketing) for Fiesta Mart, Inc. it was decided to continue the 20 year long Sponsorship of the Houstonians FC, a renowned soccer club based in Houston, TX.
Jose Rayo, commented: "I am delighted that Fiesta Mart has decided to extend its sponsorship. I am a product of the value that Fiesta brings to this soccer club. As starting off as an underprivileged player in my youth, Fiesta gave me so much opportunity I wouldn't have otherwise had. I am very happy to bring the same benefit to so many of our players."
For more information: Jeff Rodgers, jeff@houstoniansfc.org, VP of Operations for Houstonians Futbol Cub, Inc. A 501(c)(3) non-profit charity or please visit them at houstoniansfc.org.
Contact
Houstonians Futbol Club
Jeff Rodgers
832-755-7733
houstoniansfc.org

Contact