Whammerdyne Concludes Successful T.H.E Show Newport in Irvine, CA
Founded in 2010 by Pat Hickman, Whammerdyne Heavy Industries is an amalgamation of technical skill-sets united by a common passion for hi-end audio, based in Portland, OR. With many years of combined experience in hi-end audio, electronics engineering, and CNC fabrication, the duo set out to build the ultimate single-ended stereo amplifier. That journey found them at the unveiling of the ultimate single-ended 2A3 Truth amplifier at The Home Entertainment Show Newport.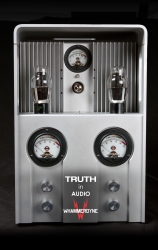 Portland, OR, June 11, 2015 --(
PR.com
)-- T.H.E Show Wrap-Up:
The Home Entertainment Show Newport is the largest congregation of audiophiles in America, held this year from May 29th-May 31st at the Hotel Irvine. Customers, vendors, and press all convene to see the latest and greatest developments, seminars, and products in the audio world. The show had over 8500 attendees, hundreds of rooms, and good accommodations for the vendors and their guests. All in all, it was a huge success for T.H.E Show and the high-end audio community.
Whammerdyne debuted their newest product, The Truth 2A3 Tube Amplifier by implementing unique treatments to the room (as hotel room acoustics are tricky to deal with). The team behind the production of The Truth answered questions while hosting listening sessions in their hotel room booth.
Critically Acclaimed:
Whammerdyne's expectations for the event were easily exceeded, receiving 100% positive feedback from all listeners and even received many written-in comments about their individual experiences.
In terms of sound, many of the listeners commented on The Truth's clarity, speed, detail, dynamics, and delicacy.
Some of their favorite quotes:
"I want it! This sound coming from a 4 watt amplifier, OMG"
"The best 2a3 amplifier I have ever heard, best sound of the show!"
"Realistic sound, brought me to tears."
On the design of the amp itself, 99% loved the styling and the finish, one mentioned it was too large to fit on his audio rack, but that he wanted to own one anyway and suggested that Whammerdyne offer an optional custom stand.
Looking forward, Whammerdyne moves closer to commercial production of The Truth 2A3 Amplifier, anticipating first orders shipping in 30 days.
Listen to the culmination of four years of research, design, and development to understand what The Truth sounds like. To learn more about the Truth 2A3 Amplifier, visit [whammerdyne.com]. For media and other related inquiries, see contact info below:
Contact
Whammerdyne
Paul Fasel
206 228 9761
http://whammerdyne.com

Contact