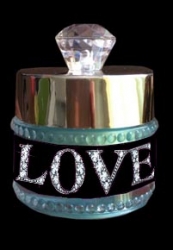 Palm Beach, FL, June 14, 2015 --(
PR.com
)-- As women and men of distinction well know, scents can be magical, mystical substance that excite the imagination and enhances ones mood. And now there is a unique new floral perfume and woods cologne with innovative designs bringing art to scents: Perfume 3D.
Adding a new dimension to fragrances, Perfume 3D is a colored fragrance that comes with stencils—so that you not only smell exquisite, but also reflect your personality through hearts, stars and more.
This innovative creation was designed by Rachel Martin. She came up with the idea for Perfume 3D based on her passion for art and fragrances, combining the two. "My goal is to add something new to perfumes and colognes, with color and designs that are both freehand and stenciled," the entrepreneur says.
The perfume currently comes in two scents, "Love in the Garden" and "Peace in the Woods" with pink or black option with plans to add more colors and scents in the near future. Images and scents may last up to 12 hours for a fun and exciting way to express yourself through art while smelling nice as well.
The art of perfume-making dates to early civilization, with early anecdotal evidence of scents as far back as the BC era. It started out with blending of flowers, oils and other aromatics—before becoming a bona fide industry in the late 19th Century. Using essential oils and only natural ingredients, we are continuing the way it was done so many years ago with the addition of colored art.
And now, purchase one for yourself and a friend just in time for the 2015 holidays where women and men of all ages can enjoy Perfume3D.