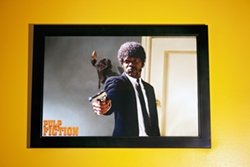 Mount Prospect, IL, June 22, 2015 --(
PR.com
)-- Ginder Factory, LLC features licensed on-set photography from "Pulp Fiction" to order as never-before-sold custom posters, art prints and canvases. Located on
GinderFactory.com
, the site will also provide custom wall décor for Miramax titles "Kill Bill Volume 1", "Kill Bill Volume 2" and "Jackie Brown." These titles will be released later this summer.
Ginder Factory, a custom wall art licensee for Miramax, LLC, will release available prints in installments throughout the summer, highlighting the most iconic scenes from these Quentin Tarantino films.
Customers will also be able to customize their products by adding classic quotes, official film logos and billing blocks, digital frames, and more. Product prices range from $10 to $150, all dependent on the size and product chosen: poster, art print, or canvas.
"Given that just about every 'Pulp Fiction' scene is as memorable as the next, we couldn't have imagined a better film to feature," Danny McKenzie, creative director for Ginder Factory, said. "We're able to feature scenes that go way beyond the industry norm. Quentin Tarantino fans are going to appreciate the expanded selection and custom features."
Although licensed "Pulp Fiction" imagery has been released as poster art, the depth of imagery and variety of high-end print products are revolutionary to the film's consumer merchandise.
The company's tagline "Own the Scene" demonstrates their product vision. Rather than selecting from stale, mass-produced poster imagery, Ginder Factory offers a wide selection of on-set photography so that fans can connect with specific characters and scenes—not just the movie as a whole.
"Back in college, all we wanted was a little variety when looking for Pulp Fiction posters to hang on our walls… something that we personally connected with from the film," Virgil Bonifazi, director of operations for Ginder Factory, said. "As fans, we couldn't be happier our dream is coming true."
Launched in October 2014, GinderFactory.com also features custom prints from Miramax films such as "Good Will Hunting", "Gangs of New York", "Scream", and more. Ginder Factory, LLC continues to explore new licensing IP to feature its evolving custom experience for novelty print on-demand merchandise.