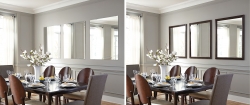 Charlotte, NC, June 24, 2015 --(
PR.com
)-- MirrorMate introduces READYFrame, 16 frames made-to-fit three sizes of IKEA's Godmorgon wall mirror. It's a simple IKEA hack that gives consumers the unique ability to create their own custom mirror in the size and style they love – all at a price that is affordable.
Simply purchase and install a frameless Godmorgon wall mirror from IKEA in one of three sizes compatible with ReadyFrame. Then order one of 16 ReadyFrames at
http://www.mirrormate.com/standard-sizes-landing
The frame arrives as a kit, ready to assemble and press right onto the mirror that is on the wall. Mirror sizes include: 39 3/8" x 37 ¾", 47 ¼ x 37 ¾ and 31 ½ x 37 ¾".
"The affordability of IKEA products make them a great foundation to build upon and customize," says Lisa Huntting, president and founder of MirrorMate. "It's a fun IKEA hack that taps into the trend of custom framed mirrors, made to suit consumer's personal taste."
There's no longer a need to search retail stores for a framed mirror that's right – now you can make your own high quality, custom framed accent mirror for any room in the home with IKEA and READYFrame.
About MirrorMate LLC
Headquartered in Charlotte, North Carolina, MirrorMate LLC was founded in 2004 by Lisa Huntting, who invented the MirrorMate® frame as a retro-fit framing solution for the bare mirrors in her own home. The frames have been used to finish mirrors in most major hotels, homes across the country. As the original and industry leader, the product is patented in the U.S. and Canada and features such unique design elements as a grooved inside edge that cover clips and hides the mirror's edge. This specially crafted frame ensures the look of a fully-framed, free hanging mirror. MirrorMate frames are eco-friendly, high quality frames – almost all made and manufactured from wood or recycled wood-based materials in the U.S.A. For more information, as well as a MirrorMate demonstration video, please visit www.mirrormate.com. MirrorMate can also be found at www.facebook.com/mirrormateframes.