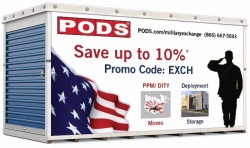 Clearwater, FL, June 26, 2015 --(
PR.com
)-- In celebration of the upcoming Fourth of July holiday, PODS is holding a nationwide online contest from June 29 through July 4 for all branches of the military. PODS will be awarding a $100 Military Exchange gift card to one lucky winner at each of the branches of the Exchanges – Navy, Army & Air Force, Marine Corps, and Coast Guard. Also, PODS will continue to offer special military discounts by giving up to 10 percent off moving and storage services to those that are serving or have served our country.
PODS Enterprises, LLC has worked with the Navy Exchange Service Command (NEXCOM), the Army & Air Force Exchange Service (AAFES), Marine Corps Community Services (MCCS) and the Coast Guard Exchange (CGX) for almost a decade.
The alliance between the parties, first forged in 2006, has seen extensive growth as more military personnel use the innovative product. Military customers like the convenience -- they can fill the PODS containers at their own pace and store them, either on-site or at one of PODS' Storage Centers –especially during PCS moves or overseas deployments. And with just one simple phone call, PODS will move customers' containers across town, or across the country, and to/from Hawaii.
"We have found that our unique combination of moving and storage provides a level of flexibility that is of benefit to our military personnel," says Matt Tillotson, Director of Partnerships at PODS. "We are proud to serve the men and women at military installations around the U.S. and offer discounts to both active service members and veterans. But we also wanted to further recognize each service branch by creating a contest with monetary prizes and some helpful tips about PCS moving and storage."
Also in further recognition and support of those who serve our country, PODS containers, custom themed and wrapped in military style, will be deployed at Military Exchanges across the U.S. in coming months.
The contest allows one entry per person by filling out an online form located on each participating Military Exchange's Facebook page. Customers interested in PODS' services can visit a participating Military Exchange or online at,
PODS.com/militaryexchange
.
About PODS Enterprises, LLC
PODS is a leader in the moving and storage industry providing both residential and commercial services in 46 U.S. states, Canada, Australia and the UK. Founded in 1998, PODS pioneered the portable moving and storage industry now preferred by many customers' increasingly active and mobile lifestyles. To date, the PODS network has completed more than 600,000 long-distance moves, exceeded 2 million deliveries and has more than 150,000 PODS containers in service.
Media Contacts:
Consortium Media
805-654-1564
Brooke Lubel, ext. 117
Brooke@consortium-media.com