Art Takes Flight with the New Butterfly MOVA® Globe
MOVA International's all-new Butterfly MOVA Globe fuses decorative art and motion together for the décor and gift market.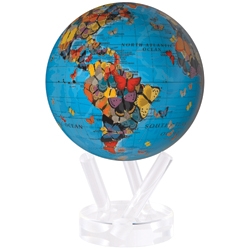 San Diego, CA, June 30, 2015 --(
PR.com
)-- MOVA International announces the launch of their Butterfly MOVA Globe by Wendy Gold, the newest addition to the MOVArt Collection, the company's line of solar-powered, home décor globes that bring exclusive artwork to life through movement.
The new Butterfly MOVA® Globe is a collaboration with decorative artist Wendy Gold, who launched her company ImagineNations™ in 2010 and has built her successful brand around handcrafted vintage globes donning one-of-a-kind decoupage artworks. MOVA International saw the perfect fit with Gold's designs as they sought to expand the decorative potential of their technology, while Gold found the kinetic aspect of MOVA Globes a unique canvas.
"I found the movement element absolutely amazing – it adds a whole other dimension to my butterfly globe when the butterflies can actually fly," says Gold. The Butterfly Globe is art and science working together – it showcases a world map composed of vibrant butterfly clusters as it rotates on its own in ambient light without batteries or wires. The globe is an object of inspiration that allows people to blend vintage art and futuristic technology into their home décor, all while adding a touch of style and whimsy. The combination also represents a breakthrough for artists looking to bring new perspectives to their work and meets ongoing demands for unique specialty designs in the interior design and gift markets.
As with the other globes in the company's MOVArt collection, the Butterfly MOVA Globe uses their 3D imaging technology and patented printing process to achieve not only accurate composition and color rendition, but to ultimately enhance the artwork with the globes' movement, bringing unique, one-of-a-kind pieces to a larger audience.
The Butterfly MOVA Globe is the first step for MOVA International to expand their portfolio of designs as they continue moving their products into unique interior design venues and turning them into décor essentials. For more information on the new Butterfly MOVA Globe, please visit the company's website at www.movainternational.com.
About MOVA International
MOVA International was founded in 2003, with a dream to take advanced, environmentally friendly technologies and recreate the magic and peaceful motion of Earth. They strive to provide beautiful luxury home décor products that remind everyone of the calming nature of our planet and that embody the perfect nexus of science and art.
Contact
MOVA International
Elizabeth Engelman
858-259-1370
www.movainternational.com

Contact
Multimedia
Additional information on the new globe, including special features, pricing, and additional images showcasing the globe's decorative quality.