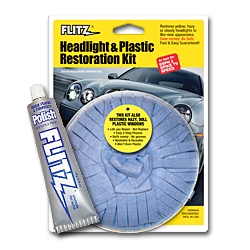 Waterford, WI, December 01, 2007 --(
PR.com
)-- In response to consumer requests to develop a fast, easy-to-use method for restoring headlight lenses and plastic, Flitz International has introduced the "Flitz Headlight & Plastic Restoration Kit."
"Keeping your headlights clean and clear is very important" says Ulrich Jentzsch, President of Flitz International. "Dim headlights and tail lights can cause serious problems when driving at night. And, if you can't see or be seen -- well, its just not safe."
Why do good headlights go bad?
Most vehicles produced since the early 1990's have polycarbonate/acrylic lenses.
The problem with these plastics is that over time the effects of UV rays, weather, and road debris will cause them to yellow, haze or cloud over. Not only does the headlight look poor in appearance, it loses its most important function - its ability to illuminate. When this happens, one has two choices. Repair or replace. Repair can often be a complicated, messy, time-consuming process. Replacement can be expensive.
"Customers were telling us that the headlight restoration kits on the market today are expensive and require complicated, multi-step procedures to get the job done" added Jentzsch. "We thought the process should be easy and quick. Our kit allows people a proven, do-it-yourself option for restoring clarity and performance to plastic, saving them hundreds and even thousands of dollars."
The new kit introduced by Flitz is affordably priced (around $49.00), involves an easy-to-use 1-step process and is non-toxic. In a matter of minutes, the Flitz Headlight & Plastic Restoration Kit will remove the hazy, yellow, opaque appearance with like-new results. Key components of the kit include Flitz's flagship paste product and their patented BüffBall. The BüffBall fits any standard 3/8-inch drill or air tool and will buff at speeds up to 2,500 rpm. It is also washable and reusable. According to the company, the average time to complete the restoration of a head or tail light is 10 minutes or less. The kit also contains a handy, instructional DVD to help you do the job right.
In addition to restoring headlamps to like-new condition, this same kit can also be used to restore clarity to plastic light bars, bug shields, plastic car and truck windows, plastic airplane windows, motorcycle windshields, and boat windows. One kit, many uses.
The product is available through distributors like Snap-on, Matco Tools, Summit Racing and West Marine. It can also be purchased directly from Flitz at (262) 534-5898.
###