Christmas is the Season for Green
Spread Some Irish Cheer this Christmas with a Paddy the Leprechaun Gift from Paddystuff.com.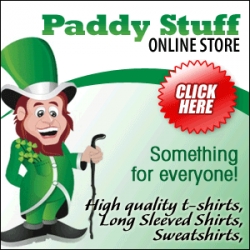 New York, NY, December 01, 2007 --(
PR.com
)-- Who says being Irish is only for St. Patrick's Day? Green is the color of Christmas as well, and Paddystuff.com will help you make the season a little greener with apparel, office accessories, bags, mugs and more that sport the delightful character Paddy the Leprechaun.
Paddy the Leprechaun and Paddystuff.com were developed by Kevin Thomas, a native and resident of Ireland, as a way to unite with fellow Irish and Irish descendents across the globe.
"Ireland is just a tiny island in the middle of a big ocean in the middle of an even bigger world, but Irish folk have influenced every corner of the globe. It's important that we stick together and proudly proclaim our heritage," Thomas said.
Paddystuff.com has a full range of apparel and other items perfectly suited for showing off your Irish heritage. Whether you're pure Irish, half Irish, or just a little bit Irish (after all, part Irish is better than no Irish), you'll find a Paddy the Leprechaun gift to fit your needs. What's that, you say? You're not Irish? Then get a little Luck of the Irish to rub off on you by giving Paddy the Leprechaun gifts to your friends, neighbors and distant relatives who are of Irish descent—a little green goes a long way.
New for Christmas this year, Paddystuff.com has released a new line of Santa Paddy products—your favorite leprechaun decked out for the holidays. Get Santa Paddy on your choice of t-shirt styles, sweatshirts, hats, accessories and more. Even get a pack of Santa Paddy greeting cards to share your Irish spirit with everyone on your list.
Of course the original Paddy the Leprechaun design is suitable year-round for everyone with a little Irish in them. Don't miss their special line of Cop Paddy and Firefighting Paddy to honor every Irishman and person of Irish descent serving in law enforcement and rescue services. Cowboy Paddy and Aussie Paddy designs reflect the global influence and individual personalities of Irish folk everywhere.
Anything Irish has to be good. That's why Paddystuff.com, based in Rataoth, Ireland, is dedicated to supplying the highest-quality products in the fastest time possible. Paddystuff.com guarantees 100% customer satisfaction. Paddystuff.com has contracted with Cafepress.com to provide a reliable and secure shopping experience online and ensure the highest quality production of every shirt, cap, bag, mug and other products bearing Paddy the Leprechaun. Cafepress.com has been producing custom logo and graphics apparel and novelties since 1999. With production facilities located in Louisville, Ky., shipping anywhere in the United States is fast and easy. Order now and get your green in time for Christmas.
###
Contact
Paddystuff
Kevin Thomas
18778091659
http://www.paddystuff.com

Contact