Give the Gift of Thought: Philosophy Talk Show Archive on Sale for First Time
Philosophy Talk, the radio show that questions everything except your intelligence, is having a holiday sale.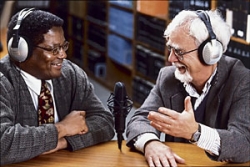 Stanford, CA, December 02, 2007 --(
PR.com
)-- Treat your philosophically inclined friend, offspring, parent, or significant other to an intellectual feast for the holidays. From now until the end of 2007, the whole opus of the Philosophy Talk radio program is available for download. The entire archive of Philosophy Talk-- all 147 episodes --is one sale for $129.95. That's about 88 cents per episode.
All subscribers to this product can join the program's hosts, John Perry and Ken Taylor, live, on Sunday February 3, 2008 beginning 12:00 Noon PST for an exclusive two hour teleconference. This is is an opportunity to share thoughts and questions with John and Ken, in person. Can't make that date? No worries -- the conference will be recorded and sent to subscibers after the broadcast. To learn more visit: http://www.philosophytalk.org/GivetheGiftofThought.htm
Philosophy Talk is a weekly, one-hour, live call-in radio series hosted by Stanford University philosophers Ken Taylor and John Perry. Each week Professors Taylor and Perry and a guest engage in a lively, philosophic discussion about everyday topics. Past guest have included, Alan Dershowitz, Frank Deford, Kathleen Sullivan and Myles Brand. Topics are lofty (Truth, Beauty, Justice), arresting (Terrorism, Intelligent Design, Suicide), and engaging (Baseball, Love, Happiness). This is not a lecture or a college course, it's philosophy in action. Philosophy Talk is a fun opportunity to explore issues of importance a thoughtful and engaging format, where thinking is encouraged. The show is produced by Ben Manilla and broadcast from KALW-FM in San Francisco.
More Philosophy Talk Gifts On Sale
The Philosophy Talk Annual Subscription
Sign up for the Philosophy Talk Annual Subscription for the low, low price of $69.95. Get a year of thought, 52 episodes, for only $1.35 per episode. Subscribers who register before December 31, 2007, will receive a bonus thank-you (for either the purchaser or the gift recipient) -- an invitation to the exclusive two-hour teleconference with John Perry, Ken Taylor, and the entire Philosophy Talk posse. The conference will be held on Sunday February 3, 2008 beginning Noon, PST. Dialog with America's Public Intellectuals #1, in real time, up close and personal, without ever having to leave the comfort of your home, office, or dorm room. All current subscribers will also be extended invitations to this special event. Go here to get the Philosophy Talk Annual Subscription: http://store.iamplify.com/product_info.php/products_id/1486
Individual Episode Sale
Don't want to own the complete archive of Philosophy Talk? Aren't ready for an annual subscription? But still want to sample the gift of thought? Each individual episode is available at a reduced price. From now until December 31st, 2007, any past episode of Philosophy Talk is available for download for $2.95. Buy now and save 40% off the regular price. To learn more about their library of past episodes go here: http://store.iamplify.com/index.php?manufacturers_id=331?
Ken Taylor is Professor and Chair of the Department of Philosophy at Stanford University.
His work lies at the intersection of the philosophy of language and the philosophy of mind, with an occasional foray into the history of philosophy. He is the author of many books and articles, including Truth and Meaning, Reference and the Rational Mind, and Referring to the World.
John Perry is the Henry Waldgrave Stuart Professor of Philosophy at Stanford University.
He is a member of the American Academy of Arts and Sciences and a recipient of many honors and awards, including the Nicod and Humboldt Prizes. A popular lecturer, in 1990 he was awarded the Dinkelspiel Award for undergraduate teaching. He is the author of over 100 articles and books, including A Dialogue on Personal Identity and Immortality, Knowledge, Possibility, and Consciousness, and Reference and Reflexivity. He also wrote the internet's most popular essay on procrastination.
Ben Manilla has been recognized by professionals around the world for his award-winning programming and innovative production style. He has held executive positions at Radio Today, RKO Radio Networks, WOR Radio, WLIR Radio, and the Progressive Radio Network. He has directed or produced hundreds of features, specials, documentaries, ongoing series, commercials, and audio presentations. His 13-part documentary, "The Blues," is the most widely distributed special in the history or PRI.
Contact:
Corrie Goldman - Humanities Outreach Officer
(650) 724-8156
Relevant Links:
Philosophy Talk on-line sale: http://www.philosophytalk.org/GivetheGiftofThought.htm
Philosophy Talk homepage: http://www.philosophytalk.org/
Philosophy Talk blog: http://theblog.philosophytalk.org/
Ben Manilla Productions: http://www.bmpaudio.com/
###
Contact
Stanford University
Corrie Goldman
(650) 724-8156
stanford.edu

Contact