Avealto Successfully Completes Feasibility Test Flight of High Altitude Platform
Successful test flight prepares Avealto to move forward to the next phase of its vision of a novel and radically disruptive telecommunications modality – a fleet of stratospheric High Altitude Platforms providing broadband, cellular, data communications, broadcasting and public safety functions.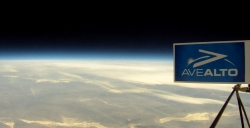 San Jose, CA, July 16, 2015 --(
PR.com
)-- Avealto has completed initial feasibility evaluation of its free flying test vehicle. This is a significant milestone in its development program to build a commercial High Altitude Platform ("HAP"). The Avealto test vehicle was successfully launched on June 14th, 2015 from a desert launch site near Lovelock, Nevada, in the Western USA. The vehicle landed intact and flight telemetry has now been fully evaluated.
Avealto's baseline HAP vision is of solar-powered lighter-than-air vehicles which will remain on station in the stratosphere at an altitude of 18 to 22 kilometers (60,000 to 72,000 feet) for months at a time. Each HAP will be able to provide services to a circular terrestrial footprint between 300 to 700 kilometers (200 to 450 miles) in diameter. Unlike geostationary telecommunications satellites, HAPs can be recovered for scheduled servicing and technical upgrades as required. The flexible nature of HAP provisioning will allow multiple HAPs with overlapping coverage to be co-ordinated for improved redundancy, capacity and quality-of-service.
Avealto has conducted premarketing activities in targeted telecom markets and has received a very positive response. While the Avealto vehicle itself is a technically innovative vehicle, its payload is designed to interoperate seamlessly with existing telecommunications infrastructure. Customers will be able to quickly add HAP services at a competitive cost without requiring new equipment. The short signal transmission path of HAPs compared to satellites offers significant technical advantages, notably low latency and modest power transmitter requirements.
Avealto's HAP vehicle will be able to provide an "instant-on", scalable, cost effective telecom infrastructure for developing countries and to fill in gaps in existing infrastructure in more developed countries. HAPs can also carry third party "hosted payloads." Avealto plans to have commercial HAP vehicles ready for deployment in 2017.
Avealto has selected JP Aerospace, based in Sacramento, California, as design partner for the HAP. JP Aerospace has accumulated more practical and commercial experience in high altitude vehicle operation than any other organization in the world. When the initial design is finalized, volume production and deployment of HAPs will proceed.
"I am excited that JP Aerospace will be involved in designing the Avealto HAP vehicle. This vehicle once deployed will have positive world changing effects." -John Powell - Founder and CEO, JP Aerospace
Avealto has assembled a highly experienced team that incorporates the required blend of both telecoms and aerospace expertise. This team is led by Avealto founder, Walt Anderson. Mr. Anderson is a serial telecommunication entrepreneur, an early investor and supporter of commercial space activities, and co-founder of the International Space University in Strasbourg, France. Telecoms companies founded and run by Mr. Anderson in the USA and Europe realised over USD2.5 billion in exit valuations.
"The time is right to build and operate commercial High Altitude Platforms. The technology is now viable it and the marketplace is waiting for this capability." -Walt Anderson - Founder and CEO, Avealto Limited
About Avealto: Avealto Ltd. is a United Kingdom corporation which intends to finance, construct and operate a fleet of High Altitude Platforms. The mature global Avealto system might comprise 200+ uncrewed, stratospheric, long duration telecommunications platforms providing: mobile communication support; broadband; telecom backhaul; broadcasting; transportation safety services; and, public safety services. Modular swappable payloads can be tailored to suit specific locations and markets.
Avealto aims to complement existing terrestrial and satellite infrastructure, providing rapidly deployable connectivity for rural, remote, maritime, aeronautical and developing world customers, and integrating seamlessly with existing infrastructure.
For more information contact: info@avealto.com
Contact
Avealto Limited
Walt Anderson
+1 202 467-1000
avealto.com
info@avealto.com

Contact