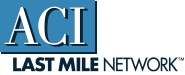 Long Beach, CA, July 16, 2015 --(
PR.com
)-- ACI Media Group, a closely held enterprise with more than 50 years of providing services to print publishers, announced today that it is now known as ACI Last Mile Network to reflect its newly expanded service offerings. ACI Last Mile Network's mission is to repurpose the national legacy print-delivery network as the most efficient and effective home delivery system of the future. The name change better aligns with the direction of the company.
ACI's Last Mile Network will be "product agnostic" and deliver products for both publishers and e-commerce companies alike. For both channels, ACI Last Mile Network will specialize in parcels, newspapers, magazines, catalogs, packages, product samples and direct mail. Partnering with ACI Last Mile Network will allow publishers to grow revenues, manage expenses and remain competitive. Jack Klunder, President and COO of ACI Last Mile Network, believes newspaper publishers will benefit from ACI's expansion plans. "As print volumes continue to slowly decline, newspaper publishers will benefit from new revenue sources provided by us, making their current delivery systems more viable into the future."
ACI Last Mile Network has been the nation's leading multi-channel print distribution company. The company will continue to provide and aggressively grow their technology-driven distribution services for publishers, offering a diverse portfolio of solutions to fit their needs. They will leverage their rapidly growing footprint with distribution centers coast-to-coast, to acquire e-commerce opportunities and provide the entire channel with cost-effective, timely home delivery solutions.
Keith Somers, CEO of ACI Last Mile Network, stated, "The legacy newspaper delivery network is a huge nationwide asset that is underutilized, fragmented and waiting to be repurposed to meet the demands of tomorrow's consumer. Once aggregated, this network can literally leapfrog the USPS in terms of better meeting that demand. ACI Last Mile Network enjoys a special position among print publishers with its relationships, track record and credibility—if anyone can effectively aggregate and repurpose the national print delivery network and offer a compelling solution to both the e-commerce and the publishing world, we are in the best spot to do so."
The need for additional distribution channels is growing dramatically. According to Statista.com, an online portal with more than 18,000 sources, U.S. retail e-commerce sales amounted to $225.5 billion in 2012 and are projected to grow to $434.2 billion by 2017. Demand for delivery service, an essential and logistics-intensive part of e-commerce, will continue to grow accordingly.
To further support this growing market, ACI Media Group, which remains a holding company for ACI Last Mile Network, recently acquired a stake in technology company MyDistrict.Net. Together they are developing new, technology-based products focused on the logistics and distribution industries for the entire marketplace to utilize. This technology will provide ACI Last Mile Network the ability to hone its market-leading abilities and develop its last mile strategy.
About ACI Last Mile Network
ACI Last Mile Network, headquartered in Long Beach, California has the fastest-growing delivery network, and provides home delivery services to its e-commerce and publishing customers at considerable cost reductions. Their trademarked "Two Channels, Millions of Doorsteps, One Powerhouse" speaks to their ability to fulfill the growing demand for high volume delivery to the "last mile." For more information, visit acilastmile.com
About ACI Media Group
ACI Media Group, headquartered in Long Beach, California, and founded in 1965, provides strategic solutions, alliances and investments that support its corporate objectives. With a 50-year history offering publishers a full selection of delivery services, they continue to implement new innovative strategies to streamline and enhance the entire delivery supply chain.