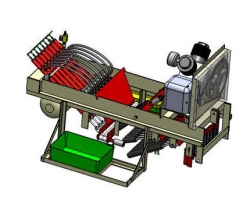 Stockton, CA, July 17, 2015 --(
PR.com
)-- Geiger-Lund Harvesters is introducing the Model OR-24, a low-cost, one-row, selective mechanical asparagus harvester for small asparagus farms. The machine retails for only $32,399 and will reduce the cost of harvesting.
Harvesting asparagus is arguably one of the most grueling of agricultural jobs. Picking asparagus involves being bent at the waist all day while rapidly walking down the asparagus bed to cut and pick up each spear by hand, a very physically demanding job. It is getting harder and harder to find enough workers to harvest asparagus. Tougher border enforcement and low wages are driving the shortage of workers for this back-breaking labor.
Harvesting is the most expensive part of growing asparagus. Machine harvesting is substantially cheaper than hand harvesting and thus will help American growers compete with the low-cost imported asparagus from Mexico and Peru.
Asparagus spears can grow up to 6 or 7 inches a day in warm weather and so the fields often have to be cut every day. A machine for harvesting asparagus must cut only the spears that are tall enough to harvest. (Typically about 9 inches tall) The machine must not damage the shorter spears which will be ready to harvest in the coming days.
The Geiger-Lund Model OR-24 selective asparagus harvester uses light beams to detect the spears tall enough to harvest and then uses pneumatic cutters to sever the ripe spears at ground level. Just before the spear is cut, the spear is gently gripped by revolving rubber fingered rollers. Once the spear is cut, the rollers lift the spears onto a conveyor which discharges the spears into a plastic bin. Spears that are too short to harvest are not damaged.
The Geiger Lund Model OR-24:
· Mounts to tractor via 3 point hitch.
· Estimated harvesting speed: 3-4 mph.
· Estimated crop yield: 75% or better.
· Machine weight: 1,200 pounds.
· Works with small tractors.
Now asparagus growers can harvest their asparagus by machine which will reduce their need for laborers and reduce their harvesting costs.
The OR-24 must be pre-ordered at which time Geiger-Lund will build the machine for the order.