Sosemo LLC Wins Best of Manhattan Award in the Advertising Category
Sosemo LLC has been selected for the 2015 Best of Manhattan Award in the Advertising Agencies category. Last year's recipient was PACE Advertising, a WPP Company.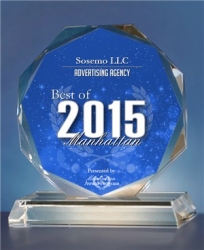 New York, NY, July 21, 2015 --(
PR.com
)-- Manhattan Award Program Honors the Achievement.
Sosemo LLC
has been selected for the 2015 Best of Manhattan Award in the Advertising Agency category by the Manhattan Award Program.
"We're honored to be the recipient of this award, especially given that we are a true local boutique agency and not part of advertising conglomerate. We have terrific, personal and very meaningful relationships with our clients and love working with them every day. Relationships of this kind are much more natural at the local level," said Larry Gurreri, Founder & President, Sosemo LLC.
Each year, the Manhattan Award Program identifies companies that they believe have achieved exceptional marketing success in their local community and business category. These are local companies that enhance the positive image of small business through service to their customers and our community. These exceptional companies help make the Manhattan area a great place to live, work and play.
Various sources of information were gathered and analyzed to choose the winners in each category. The 2015 Manhattan Award Program focuses on quality, not quantity. Winners are determined based on the information gathered both internally by the Manhattan Award Program and data provided by third parties.
About Sosemo:
Sosemo is a boutique digital marketing agency located in New York City. Clients range from Fortune 500 companies to rapidly growing brands to prominent startups. Sosemo stands for social, search and mobile, and is built upon a simple premise: managing effective integrated marketing programs across multiple digital channels starts by having one expert team plan, execute and drive cross-channel integrations. We are that team. Sosemo utilizes a pioneering framework to integrate social, search, and mobile marketing services to ensure that our clients gain maximum value from cross channel synergies. Whether we are managing an acquisition model, customer loyalty program, promotion, or brand development program, we ensure that opportunities for added value through integration are not missed.
About Manhattan Award Program:
The Manhattan Award Program is an annual awards program honoring the achievements and accomplishments of local businesses throughout the Manhattan area. Recognition is given to those companies that have shown the ability to use their best practices and implemented programs to generate competitive advantages and long-term value.
The Manhattan Award Program was established to recognize the best of local businesses in our community. Our organization works exclusively with local business owners, trade groups, professional associations and other business advertising and marketing groups. Our mission is to recognize the small business community's contributions to the U.S. economy.
Contact
Sosemo
Larry Gurreri
646-429-9572
sosemo.com

Contact