Herobuilders Can Make Custom Action Figures for the Hero in You. Become a Custom Action Figure with Just 2 Images.
Herobuilders Releases a Group shot of Custom Action Figures. Herobuilders flexes its muscles in this group shot of custom action figures.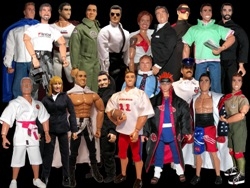 Oxford, CT, August 04, 2015 --(
PR.com
)-- Looking to make a unique gift for friend or family member, custom action figures may be for you. Become an Action Figure with Just 2 Images
Now you can have a custom action figure that looks, talks and dresses just like you or your favorite person with just 2 images.
Given their lengthy and extensive experience in the custom toy industry, Herobuilders.com, whose mantra boasts "we can make anything" can certainly deliver.
Vicale, founder of Emil Vicale Design and Owner of Toybuilders.com has been an innovator of mass customization, creating custom products for 15 years. His use of 3D product design and 3D printing started in 1995, long before 3D manufacturing was recognized as a cost effective alternative to the mainstream manufacturing process.
After Vicale took over Toybuilders.com he started Herobuilders.com and focused on political action figures, which is now a multi-million dollar industry. At the helm of Herobuilders, Vicale set his sights on the mass customization industry and started the custom action figure craze, creating custom action figures designed to look just like the customer or anyone else the customer requested.
As 3D printing companies started making cheaper and lower resolution printers, the custom action figure industry became a more crowded space. Along with all the new dot.coms also came poor quality, lower levels of articulated bodies and just plain bad reproductions of people's likenesses. Vicale, noticing this trend years ago seized on the opportunity and led Herobuilders away from 3D printing when making the heads of its subjects and now uses a proprietary process which gives the best results in the industry. As a result, Herobuilders is known worldwide for creating products of the highest quality.
To visit the new custom action figure superstore, just click this link:
http://www.herobuilders.com/custom-action-figures.htm
Contact
HeroBuilders.com
Emil Vicale
203-888-0147
http://www.herobuilders.com/custom-action-figures.htm

Contact