Do Democrats Prefer the Mac?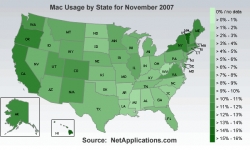 Aliso Viejo, CA, December 05, 2007 --(
PR.com
)-- Aliso Viejo, CA based Net Applications announces November 2007 Operating System Usage Market Share. With a new, greatly enhanced marketshare site, Net Applications is now able to analyze global marketshare trends with much greater depth.
They not only have more trends they are tracking and summarize versions better, but they are now able to view market share by continent, country and even by state/province. The Mac OS usage map for the US provided an immediate visual impact. Higher percentage Mac usage states almost perfectly match up with states that typically vote for Democrats. So, do Democrats prefer Macs? The correlation is striking. As the US Presidential primaries heat up, we are left to ask:
Are the speech writers for Hillary Clinton and Barack Obama typing on Macs right now?
When Mitt Romney and Rudy Giuliani get online, are they using PCs? Have they upgraded to Vista? Have they then downgraded back to XP?
If John McCain uses a Mac, does that signify that he's more of a centrist?
If anyone knows for certain, please contact Net Applications so they can see if the correlation holds at the top levels of the respective parties.
Meanwhile, in the battle between PC and Mac, the Mac continues to gain ground. November 2007 usage statistics show that globally, 6.8% of all computers online are Macs. That is the highest percentage we've seen to date. And, with Apple's new Leopard OS, the future looks even brighter for the Mac. Now, does that mean we'll have a Democrat in the President's office again soon? Time will tell.
Check out their significantly enhanced marketshare site.
###
Contact
Net Applications, Inc.
Vincent Vizzaccaro
888-802-8390
www.netapplications.com

Contact