Total Health For Life Launches eBook for Achieving Optimal Health, Fighting Disease and Reversing Aging
The site www.totalhealth4life.net: The site's mission is teaching the "secret" of staying youthful, fit, and disease free, finding happiness within; and motivating people to take action "today" to start their own journey into "total health" of the mind and body -- then, most importantly, giving back by passing it on to others. It teaches and motivates males and females of all ages to live the best quality of life and to have a mindset for success at any endeavor.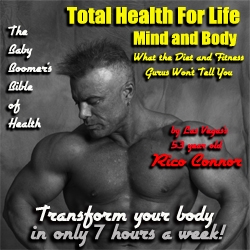 Las Vegas, NV, December 06, 2007 --(
PR.com
)-- Total Health For Life, LLC now has the eBook, "Total Health For Life: Mind & Body, What the Diet and Fitness Gurus Forgot to Tell You" out on CD at www.totalhealth4life.net
The eBook is a vehicle to transform your mind and body into a state where you enjoy the ultimate fulfillment of your life -- physically and mentally. It is not another fad diet, or a dvd with a new aerobic twist that you can't and won't stick to. It is based on science and tailored by experience. It is a workable lifestyle which after a few months you will not even think about, because you won't be counting calories or keeping religious notes.
When asked why he touts his regimen above others Rico replied, "This book is a culmination of over twenty five years of absorbing knowledge and through a trial and error process, forming my own system of becoming optimally healthy. I have gone through numerous health regimens and each one of them has some good points but none of them ties all aspects of what I call total health, together in one program."
Just a few of the numerous tips that readers will get from the E book are listed on the back cover.
Rico says, "This book wasn't written to help sell a home gym machine but to help people. It was written after years of seeing people struggling to lose weight, gain weight, or get in shape, only to watch them sabotage their efforts and waste their time in the gym because they didn't have the proper knowledge, motivation, willpower or discipline. Even worse is seeing people who have a decent grasp of strength training and aerobic exercise but obtain minimal results because of poor diet!"
It incorporates the teachings of Anthony Robbins, Wayne Dyer and the philosophies of the world famous "The Secret" DVD. To be successful at being healthy the art of mind-body connection must be learned and practiced every day. By using it you will improve not only your health and fitness, but every phase of your life.
The E book is a very entertaining, easy read that informs, inspires, teaches and gives the tools to succeed where most programs fail, because it is flexible, all encompassing, and written with busy people in mind. It cuts through all of the fads, misconceptions and quackery in the health and fitness fields and teaches you the science of becoming the healthiest you'll ever be in just 7 hours a week. The regimen works for males and females of all ages -- teens, adults and seniors.
It also reveals his dark side -- how in becoming a force in the nightlife scene in Las Vegas -- staying up till the early morning hours -- he got sucked up into the decadence of Sin City. He wound up smoking pot, snorting cocaine, popping pills, and downing mass quantities of alcohol to the point where it cost him his very well paid job and the woman he was going to marry. This wake up call inspired him to rethink his life out, use his mind-body connection to put it back on track and rewrite his book with a new focus and spirituality about the things that are truly important in life.
Because of the path that he took in life, the book became much more than just a way to achieve a long, healthy, disease free, quality life. It places great value on the mastery of mind-body connection to also change and improve your relationships with family and loved ones, to rise and advance in your profession, and to take advantage of all that life has to offer. It urges you to take the time to get to know your inner-self, to find out what gives your life meaning and a sense of purpose, and to proceed in that direction. Your rewards will be fulfillment, a great sense of self-worth, and happiness.
Editorial Review:
"And I have to say this, Rico. Your book is absolutely 100% inspiring, engaging, and interesting. Your down-to-earth language was funny, colloquial, educated, informational, and completely inspired me to follow your lead! Your background adds to the value, and the quality of writing and the way you articulate and even repeat concepts drives everything home. It never got boring, even as you went through the details because you would add slight bits of humor to keep the reader hooked. I can honestly say this project was enjoyable and beneficial for me! I fell for your ease of language, and you really explain things simply and concisely. Excellent, excellent work. It was natural, flowed seamlessly, and you establish credibility. Everything was fully supported. I have nothing but praise for your book, Rico! It was an honor to be a small part of it!"
Pamela Guerrieri
A-1 Editing Service, LLC
About the author:
Rico Connor grew up in upstate New York and graduated with honors from State University of New York at Cortland. He then spent 6 years overseas in Afghanistan and Pakistan, starting and directing American Teen Community Centers for teenagers of families that were stationed there in various U.S. government agencies, i.e. U.S. Embassies, USAID, etc. He has been in the nightclub/gentlemen's club industry for over 20 years. It is during this time that he developed his mind and body and fought through adversities to become what he is today. "As you can see, I'm not Superman--I'm human. I've made mistakes and had addictions. Every life faces adversity. It's part of living. But I am proof that you can, with a strong mind-body connection, pull yourself through these and triumph."
Rico's expertise is in the fields of mind-body connection, nutrition, strength training, and supplementation. He has won the only two contests he has ever entered -- He is the 2002 Nevada State Bodybuilding Masters (over 40) Champion and the 2002 Universe Modelquest Masters Champion. He has been featured in Muscle & Fitness, FLEX, AXL and LVAC magazines and authored a column for Fun & Fit Magazine for three years in Las Vegas. He now writes a monthly health column called "Rico's Room" for StripLV Magazine Muscle & Fitness covered his amazing self-transformation from a skinny, unhealthy youth, into a Masters Bodybuilding Champion and health & fitness author. What are the results of his Ultimate Regimen? He has optimal health, rarely gets sick or pulls/strains a muscle, has the energy of a young adult, and has a happy and fulfilled life. Proof of the program's claim of "turning back the hands of time" seems validated by Rico's physique. He seems to have shredded 10 to 15 years off his body age.
Total Health For Life, LLC's second phase will feature its own premier line of vitamins, supplements and protein powders/drinks.
###
Contact
Total Health For Life, LLC
Rico Connor
702 612 4971
totalhealth4life.net
rico@totalhealth4life.net

Contact
Multimedia
These excerpts will show you the content, and the writing style that is throughout the eBook. It will give you the knowledge and the motivation to change your life mentally and physically.