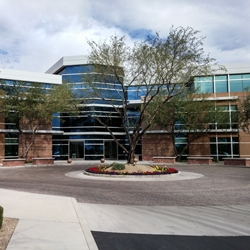 Scottsdale, AZ, August 17, 2015 --(
PR.com
)-- Angel MedFlight Worldwide Air Ambulance, a leading air medical transportation provider, has announced a relocation and expansion of its corporate headquarters. Angel MedFlight has executed a 5-year lease at The Pinnacle in Perimeter Center, 17851 N. 85th St. in Scottsdale, Arizona, approximately two miles north of its prior location.
The move stems from Angel MedFlight's need for a more functional space to accommodate growth and demand for the provider's air ambulance services. The new office space has been designed with advanced technology and enhanced amenities to better serve its domestic and international clients. In the last twelve months, Angel MedFlight has transferred patients from 49 states and 13 countries. The air ambulance company was recently awarded two prestigious aviation safety distinctions, earning the ARGUS Platinum Rating and the IS-BAO Stage 2 accreditation. These internationally recognized honors rank Angel MedFlight among elite air carriers throughout the world.
"Our new headquarters is a reflection of our commitment to process improvement. The office provides a more efficient work environment, conducive to collaboration and increased productivity, allowing us to better serve our patients. The new configuration will help us significantly improve our internal and external communication as we continue to grow and evolve within the industry," said Jason Siegert COO and President.
To create ergonomic and team-friendly work environments, Angel MedFlight worked with a local designer to select state-of-the-art office equipment. Partitioned walls and traditional environments were replaced in favor of collaborative workstations, innovative breakout centers, and technologically driven room displays.
Angel MedFlight also has leased a new hangar at The Scottsdale Airpark to maintain its fleet of medically-configured Learjet aircraft. The move was completed at the end of June.
About Angel MedFlight Worldwide Air Ambulance
Angel MedFlight Worldwide Air Ambulance provides domestic and international air medical transportation services with a fleet of medically configured Learjet aircraft. Built on a One Touch Promise®, Angel MedFlight's compassionate team of medical, aviation, and insurance professionals coordinate every detail of a Bedside-to Bedside® patient transfer to ensure seamless service on the ground and in the air. Find more information at
www.angelmedflight.com/
or on their blog at
http://blog.angelmedflight.com/
.