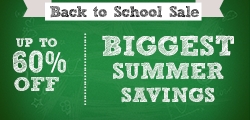 New York, NY, August 18, 2015 --(
PR.com
)-- The Back-to-school shopping season is at its peak and students are in a rush to get all they need for the upcoming school year. Audio4fun is joining the crowd with their biggest offers of the year, up to 60% off on their advanced audio/video morphing and editing software. Be sure to pay a visit to
http://www.audio4fun.com/
to get updated on the event before it expires on August 25.
For students learning in Creative industries or those who are in need of fine pieces of audio/video software for their minor projects, Audio4fun, a noticeable name with 15 years of history in the audio/video morphing and editing fields, is offering up-to-60% discounts on their leading software solutions, including:
- 50% Off VIP Card Membership: The privilege access to all Audio4fun's commercial products.
- 40% Off
Voice Changer Software Diamond
: The highest edition in voice changing series, capable for both real-time and offline voice morphing.
- 40% Off Music Morpher Gold: The multi-track music editing program, adding a virtual easy DJ.
- 60% Off Media Player Morpher PLUS: The all-in-one media player that features 8 handy editing tools and utilities.
Thank to these generous offers, students are confidently back to school on a budget while making sure that they are well equipped for any audio/video school projects, such as music remixing, video voice dubbing or voiceover, presentation narrating, real-time broadcasting. No longer will they worry about their ability to simulate someone else's voice or be challenged by the possibility of developing their craziest ideas into reality. Additionally, students can take advantage of Audio4fun's software to enjoy entertaining moments by sharing cool masterpieces with friends, creating some cool music or calling over Skype using new, strange voices. They also get the bonus of re-energizing the minds with such relaxed break, and that will be helpful for their upcoming heavy schedule.
A productive school year is ahead, and the best bargains on audio/video morphing tools are already available at http://www.audio4fun.com/ . There is another thing to remember: Audio4fun's Back-to-school savings will end soon, on August 25th.