Silvia Tancredi from Turin to New York Under the Sign of Gospel Music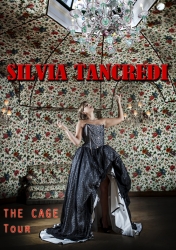 New York, NY, August 25, 2015 --(
PR.com
)-- The Italian singer, Silvia Tancredi returns to the Big Apple for some concerts where she will perform - unplugged - in venues around Manhattan.
The confirmed dates are:
August 29, 7:00 pm - 8:00 pm
- Uncle Charlie's Piano Bar & Lounge, New York
Sept. 5, 7:00 pm - 8:00 pm
- Leftfield NYC, 87 Ludlow St, she will also be a guest in some gospel festivals.
Management of the shows is N'8 Voice Music Group, Inc. production & Denmar Turner Entertainment Group:
http://www.then8voicemusic.com/artists/
.
After "The Cage," a song chosen for the soundtrack of "Cam Girl," directed by Mirca Viola - also available remixed by Jeffrey Jey (Eiffel 65) - and enhanced by a video clip filmed in Times Square and Broadway, Silvia is ready to release the second radio single and the new album in the fall.
At these gigs, her artistic producer Gigi Rivetti will be on piano.
Silvia Tancredi is a vocalist and a songwriter from Turin, Italy.
After graduating in singing at the CPM in Milan, her musical research led her to get a "History and Criticism of goods and musical cultures" degree. Silvia has had a broad career as a vocalist and soloist with artists such as Neja, Arthur Miles & The Gospel Allstars, Lee Brown, Fred Jr. Buscaglione, Fabrizio Consoli, Anthony Morgan's Inspirational Choir Of Harlem and Milva who accompanied during the 57th "Festival di Sanremo" and the subsequent tour.
On June, 2010, she released her first solo work, "L'importante è crederci," produced by Gigi Rivetti and Elvin Betti. Two radio singles from the album were extrapolated, "Leggero" feat. Flavio Boltro and "Tutto il meglio di me." Silvia is ready to issue her new LP that will come out next spring 2014, a single called "The Cage" taken from the album will be featured in the Movie soundtrack "Cam Girl" by the Italian director Mirca Viola.
http://www.silviatancredi.it/
Contact:
business@qtbsolutions.com
theN8voice@live.com
Contact
Silvia Tancredi
Luca Re
+393939035925
www.silviatancredi.it
info@silviatancredi.it

Contact