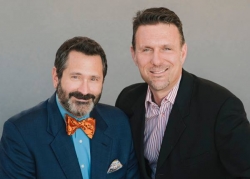 Los Angeles, CA, August 25, 2015 --(
PR.com
)-- Prominent Los Angeles real estate professionals, Ronald Shore and David Hitt of Keller Williams Los Feliz visited the LGBT Youth Center to offer career advice to Los Angeles youth aspiring to a career in real estate. The presentation soon turned lively as local youth peppered Shore and Hitt with numerous questions about various areas of employment. Areas of discussion included the development of a career path, the various skills necessary for real estate and importance of positive thinking.
Recognizing the difficulties of securing employment for Los Angeles youth, especially those who identify as being part of the gay, lesbian, bisexual or transgender community, the real estate professionals are dedicated to sharing their knowledge in meaningful ways. The Center's Transgender Economic Empowerment Project has identified that, specifically, transgender men and women experience unemployment rates that are double the national average. This staggering statistic demonstrates an immediate need for the implementation of job and life skills during the teen years.
Shore and Hitt were eager to share how they began their combined thirty year career in real estate and their vision for the future of their business. Their career advice not only instilled hope in area LGBT youth, but also provided necessary direction helpful to pursuing a new career. They closed the presentation by stressing to the youth that anything is possible when one sets their mind to it.
The Los Angeles LGBT Youth Center on Highland offers various career services through their Youth Employment Program including career evaluation tools, computer software training, resume building and interview skills. The internship program provides valuable on the job training for those who have limited employable skills.
The team of caring staff even assists with connecting youth to LGBT-friendly employers for exciting job opportunities. When the youth are ready for their interviews, the Youth Center may also provide professional attire and educate the prospective employees about appropriate dress for successful employment.
If you or someone you know is interested in sharing career advice with local, at-risk youth, please contact the Los Angeles LGBT Center's Youth Center at 1220 N. Highland Ave, Los Angeles, CA or call 323-860-2295.
Ronald Shore has served as the Team Leader/CEO if a local Keller Williams office for three years. Ronald's sales focus has been on luxury homes in Los Angeles, Downtown Los Angeles, West Hollywood, Hollywood Hills, Los Feliz and Beverly Hills for the last 10 years. (310) 339-3094, www.RonAndDavid.com
David Hitt is a highly respected Los Angeles real estate professional for his comprehensive knowledge of real estate, from residential sales to estates and investment properties. David specializes in Properties in Los Angeles, to include Beverly Hills, Hollywood Hills, West Hollywood, Hollywood, Los Feliz, Silverlake, Burbank, Sherman Oaks, Studio City, Encino and the San Fernando Valley for the last 20 years. (310) 795-4347 or (818) 422-1702, www.RonAndDavid.com