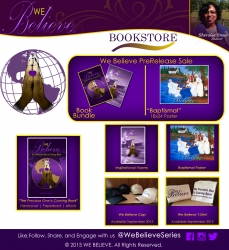 Atlanta, GA, September 07, 2015 --(
PR.com
)-- The author states, "We are living when evil is on the rise. We are not able to stop, contain, or reason with evil, because there is no logic involved in the devilish side of human nature. The Evil Ones can only be extinguished by the Precious One himself when he returns."
She continues, "We have prerequisite courses that must be passed before the Precious One returns."
Prerequisite Courses:
1. Love God with all your heart
2. Love your neighbor as yourself
3. Love one another as the Precious One (Jesus Christ) has loved us
She believes the hardest course is "Love One Another" and that many during the End Times will not pass this course and their final destiny during Judgment Day will already be decided.
The author has a positive attitude and hopes that many will pass the courses but remember it is an individual choice, "Devil Heaven or God's Kingdom."
"Mine is a book with a distinctly Biblical perspective on End Times doctrine." -Sheralee Snow, author.