Savory Spice Now Open in Kansas City's Brookside Neighborhood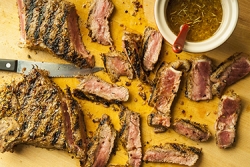 Kansas City, MO, August 29, 2015 --(
PR.com
)-- Savory Spice, the leading provider of fresh-ground spices and handcrafted seasonings, has opened their newest store in the charming Kansas City neighborhood of Brookside at 6245 Brookside Boulevard.
"As anyone who has ever followed a recipe knows, often only a small amount of a particular spice is called for. If you are lucky enough to find a more exotic spice at the grocery store, you are usually forced to buy an entire bottle," said Mike Johnston, Savory Spice founder. "At our shop you'll have the ability to buy just a half ounce, which allows our customers to try recipes, then buy larger quantities after they experience success and want to make the recipe again."
Savory Spice
is a spice shop for every type of cook. From the griller to the gourmet chef, visitors will be offered a variety of options for creating an array of flavorful dishes. Savory Spice takes great pride in offering high quality and hard-to-find items at prices that average lower than most grocery stores.
To commemorate the opening of the Kansas City location, Savory Spice released a new regional blend: The Kansas City Strip Steak Seasoning.
According to Savory Spice, the idea behind the Kansas City Strip Steak Seasoning was to develop a "sweet, yet aromatically balanced steak seasoning especially for the launch of our Kansas City spice shop." Savory Spice handcrafted this steak rub blend by mixing demerara sugar, onion, salt, garlic, rosemary, crushed red pepper, fennel, nutmeg, thyme, lemon, pepper, citric acid, fenugreek, turmeric, mace, coriander, cumin, ginger, cayenne, arrowroot, cinnamon, anise, cloves and cardamom.
In addition to releasing the new regional blend, Savory Spice also released recipes to coincide with the new seasoning. Ranging from a KC Steak Marinade to Steak Salad Dressing, these recipes showcase just how versatile Savory's new regional blend is.
Savory Spice also carries cookbooks and spice accessories for purchase, as well as recipes cards throughout the shop and online, to assist those willing to experiment and bring something new and creative to their dining tables.
Founded in 2004, Savory Spice is a collection of locally owned and operated community spice shops across the country. The shops are over-flowing with rich, wonderful aromas from around the world as the spices and seasonings are ground and blended weekly to ensure superior quality and freshness.
Savory Spice offers over 500 freshly ground herbs and spices, and over 175 handcrafted seasonings. Having a vast selection of common and exotic spices, the shop is infused with the rich, wonderful aromas of spice from around the world. Customers are encouraged to sample the extensive selection of spices and have the ability to customize the amount of spice needed for their recipes, starting at as little as a half ounce.
With the help of friendly, knowledgeable spice merchants, customers are encouraged to sample the vast selection of common and exotic spices and can purchase in quantities starting at as little as a half ounce. Savory Spice is known as a "Cook's Paradise," catering to experienced and aspiring cooks alike and has developed a loyal following across the country with locations in sixteen states.
For more information regarding Savory Spice please contact Chris Billings at 303-297-1833
Contact
Savory Spice Shop
Chris Billings
303-297-1833 x117
savoryspiceshop.com

Contact