DSC Appoints New Vice President Human Resources
DSC Logistics names Kate Daly as new VP Human Resources with responsibility for organizational and cultural development. Prior to joining DSC, Daly was Vice President, Human Resources, at D&W Fine Pack.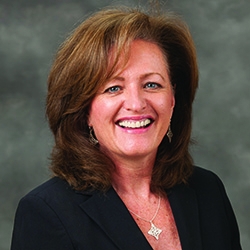 Des Plaines, IL, September 01, 2015 --(
PR.com
)-- Kate Daly has joined DSC as Vice President, Human Resources.
In this role, Daly will align business and HR strategy for the organization, providing direction and execution of plans that apply DSC's knowledge, experience and training in support of customer growth and business needs across the enterprise. Collaborating with the other members of the Executive Team, Kate will have responsibility for organizational and cultural development.
Prior to joining DSC, Daly was Vice President, Human Resources, at D&W Fine Pack where she was responsible for all HR functions with a focus on organizational culture development, employee engagement and change management. Prior to that she was Senior Vice President, Human Resources, at PSAV Presentation Services. Earlier in her career she held positions of increasing responsibility, including Director of Training & Development, North America, for Panasonic and for Barneys New York.
Daly has a Bachelor of Science in Industrial & Labor Relations with a major in Human Resource Management from Cornell University. She is a member of the Society for Human Resources Management and received SPHR certification in 2012.
"This is a time of empowering the culture around DSC's vision of the future, ensuring that our customer focus remains foremost and is reinforced as the company grows," said Ann Drake, CEO of DSC Logistics. "With Kate's experience in partnering with executives to drive culture, develop talent and maximize performance, and her expertise in aligning people with strategies and initiatives, she will be a key member of the Executive Team."
About DSC Logistics
DSC Logistics is a leader in transforming logistics and supply chain management into a critical business strategy based on collaborative partnerships, innovative thinking, and high-performance operations. DSC achieves the business goals of Fortune 500 and other dynamic companies by designing, integrating, managing and adapting customized supply chain solutions. As a Lead Logistics Partner (LLP) and third-party logistics (3PL) provider, DSC delivers value by reducing total system costs, optimizing business processes, facilitating growth and change, and maximizing the potential of the supply chain. In today's environment, filled with rapid and unpredictable change, DSC helps customers achieve their goals by being ready for anything! For more information: www.dsclogistics.com.
Contact
DSC Logistics
Jennifer Nix
(847) 635-4960
www.dsclogistics.com

Contact