Church of Satan High Priest to Curate Art Show at HOWL Gallery/Tattoo, Fort Myers, Florida
Paintin' for Satan: Tattooers & Illustrators featured in an exhibit curated by High Priest of the Church of Satan, Peter H. Gilmore. Artists include Derek Hess, Tim Lehi, Jef Whitehead, Derek Noble, Timothy Hoyer and others featured in the December exhibition at HOWL Gallery/Tattoo, Fort Myers, FL.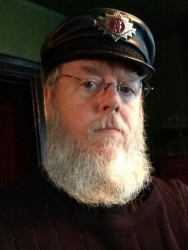 Fort Myers, FL, September 06, 2015 --(
PR.com
)-- The Devils Reign
An Exhibition Curated by Peter H Gilmore, High Priest, Church of Satan
December 5th, 2015 - January 30th, 2016
HOWL Gallery/Tattoo Fort Myers, FL
Opening Reception and Book Release Party December 5th, 2015 (7-11pm)
Church of Satan High Priest, Magus Peter H Gilmore, has curated an art exhibition and accompanying book to both debut December 5th in Fort Myers, Florida. HOWL Gallery/Tattoo will host The Devils Reign, a two month art show featuring many of the world's best known tattoo artists, as well as illustrators, photographers, painters and sculptors. The show also includes work by members of the Church of Satan's hierarchy. Over 60 artists were selected by Magus Gilmore for the exhibition that runs from December 5th until January 30th, 2016 at HOWL Gallery in Fort Myers, FL. The limited-edition hardcover exhibition book will be available during the opening reception and afterwards.
The Devils Reign features images depicting devils and dark gods from current and past cultures, as well as monstrous characters inspired by HP Lovecraft's Cthulu mythos. The Satanic Bible, first published in 1969 and written by Church of Satan founder Anton Szandor LaVey, was used as inspiration for the exhibit. Artists referenced LaVey's roster called The Infernal Names, a list of more than 50 deities compiled from world mythology, including Satan, Lilith, the Greek fertility god Pan, Dracula, Loki, and even Hindu divinities Shiva and Kali. This is the first show and published art book of its kind associated directly with the Church of Satan.
Notable artists in the exhibit include rock poster icon Derek Hess, whose work is included in the collection of The Louvre Museum in Paris and The Rock N Roll Hall of Fame. Modern day tattoo legends Tim Lehi, Jef Whitehead, Derek Noble, Dusty Neal, Curt Baer, Uncle Allan, and Timothy Hoyer all accepted invitations to participate. Well known heavy metal album illustrators such as Seldon Hunt, Shaun Beaudry, Palehorse, and Florian Bertmer also contributed artwork. Stylistically, the works range from the gothic and grotesque to art influenced by Japanese and traditional tattooing styles. A complete list of artists is available below and on the gallery's website.
The Devils Reign hardcover book features art from the exhibition as well as additional pieces not displayed in the gallery. The book is being produced and designed by gallery co-owner and accomplished tattoo artist Andy Howl and published in association with the Church of Satan. This limited edition features a two-color metallic cover and the more than 80 full-color pages. Retail price of the book is $60. Pre-ordered copies will come signed by High Priest Gilmore and orders are now being taken on the gallery's website. www.howlgallery.com
From Gilmore's introduction: "For The Devils Reign, our artists work in many styles to evoke the fantastic and demonic. Their renditions of the dread names from Anton LaVey's The Satanic Bible serve as keys to unleash oft-hidden aspects of the human psyche. As he said himself, 'There is a beast in man that should be exercised, not exorcised!' Devilish art may mock authority, frighten the gullible, and embody complex emotions. Here you'll find gateways for self-reflection, for opening one's mind to unique perspectives."
Curator Gilmore has also noted that, "For the first time, the legendary denizens of Hell as denoted in LaVey's The Satanic Bible are evoked in brilliant, blasphemous detail for you to savor."
Complete list of artists in the exhibition:
AW Storm Anderson
Adam P Campbell
Alexandra Snelgrove
Andy Howl
Cameron John
Chris Reed
Christopher Lee
Clay McCay
Curt Baer
Daniel Byrd
Dave Berns
David Sinclair Smith
David Wallace
Derek Hess
Derek Noble
Dusty Neal
Dylan Garrett Smith
Eric Vernor
Florian Bertmer
Francisco D
Herb Auerbach
Jason Leach
Jef Whitehead
Jeff Srsic
Jett Vincent Bailey
Joao Werner
jondix
Josh McAlear
Josie Gallows
Kim Rice
Laney Oleniczak
Lilith Coose
Marilyn Mansfield
Markus Mayer
Matt Lackey
Michaelanthony Alton Mitchell
nico TDM LEGRAND
N! Satterfield
Pale Horse
Pooch
Robert Lang
Samantha Roman
Sara Ray
Sean Bonner
Seldon Hunt
Shaun Beaudry
Shayne of the Dead
Skot Olsen
Steven Anderson
Stevie Floyd
Thomas Thorn
Tim Lehi
Timothy Hoyer
Tony Karnes
Tracey Pryor
Uncle Allan
Valentin Schwarz
William J Butler
Zac Scheinbaum
Zack Spurlock
Zoth Ommog
Notes to Editors
Listings of Information
Exhibition on Display: December 5th, 2015 - January 30th, 2016
Opening Reception & Book Release: December 5th 7-11pm (18+ Only)
Gallery Hours: 11am-8pm M-Th 12-10pm Fr-Sat
Address: HOWL Gallery/Tattoo - 4160 Cleveland Ave, Fort Myers, FL 33901
Admission: Free
Website: www.howlgallery.com
HOWL Gallery Facebook: www.facebook.com/HOWLGalleryTattoo
HOWL GalleryTwitter: @howlgallery
For interviews or additional info:
Contact Andy Howl - howlgallery@gmail.com
Gallery Phone (239) 332-0161
About HOWL Gallery/Tattoo
HOWL Gallery/Tattoo is a 3,500 sq/ft custom tattoo shop and art gallery located in the center of Fort Myers, Florida. Opened in 2008 by husband and wife Andy Howl and Alainna Zwiernik, HOWL features regular exhibitions by contemporary, illustrative, and tattoo culture oriented artists. The gallery also showcases original local musicians with 1960's style liquid light shows and features a craft beer and wine bar. HOWL gallery is recognized regionally for creating events such as Fort Myers Art Walk and Music Walk which helped revitalize business in the historic district of Fort Myers. The gallery relocated to larger space on US-41 in 2013. For more information on the gallery visit www.howlgallery.com
Link to this media kit online at:
http://www.howlgallery.com/news/howl/news/the-devils-reign-press-kit
Book pre-order link: http://www.howlgallery.com/devilsreign-preorders.html
Contact
HOWL
Andy Howl
239-332-0161
howlgallery.com

Contact