Seasonal Holiday Cycle Getaway
Ride off the holiday calories by joining one of their many cycle adventures in Southeast Asia.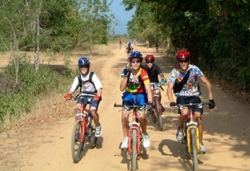 Bangkok, Thailand, September 09, 2015 --(
PR.com
)-- SpiceRoads Cycle Tours offers a range of Southeast Asia cycle tours during the seasonal holiday period. Departing late December, their tours are perfect for those looking to make the most out of their holiday break and discover a new part of Southeast Asia at the same time.
"All the cycle tours offered start after Christmas and last for between four and nine days. We have tours for families, cultural adventures and a new road biking tour from the Gulf of Thailand to the Andaman Sea," adds Struan Robertson, CEO SpiceRoads Cycle Tours.
What tours are they offering?
Family Adventures
Multi-activity adventures for active families where they combine cycling with other activities such as elephant bathing, a thrilling ride on a local steam train and overnighting in a traditional Thai hut.
* Kanchanaburi Family Explorer - 5 days – departs Dec 28
* Chiang Mai Family Explorer – 5 days – departs Dec 28
Classic Tours
Ride through culturally interesting areas, meet the locals, stay in authentic local lodgings and explore ancient ruins - an ideal holiday getaway for any adventurous culture vulture looking to get active and explore new countries.
* Biking Bangkok to Angkor Wat - 7 days - departs Dec 27
* Central Thailand Explorer – 4 days – departs Dec 29
* Chiang Mai to Chiang Rai by Bike – 4 days – departs Dec 28
* Meandering the Mekong Delta – 4 days – departs Dec 29
* Saigon to Siem Reap – 9 days – departs Dec 26
* Southern Laos by Bicycle – 8 days – departs Dec 26
* Sri Lanka Heritage by Bicycle – 7 days – departs Dec 28
Road Biking
A challenging bicycle ride from the Gulf of Thailand to the stunning beach resort island of Phuket on the Andaman coast.
* Road Cycling Coast to Coast (New) – 8 days – departs Dec 27
Expert Guides
All of the tours are fully supported and led by expert guides. Their knowledge of the route and area means that you are always "in the know": not only in terms of distance and difficulty but lots of the local culture, people and local places. An air conditioned bus with a constant supply of cold drinks and snacks will be on hand to pick up riders in need of a break.
About SpiceRoads
SpiceRoads is a specialist bicycle tour operator based in Bangkok offering a range of two-wheel tours in 28 destinations worldwide. SpiceRoads tours cater for every level of cyclist and range from day trips to complete country explorations. Participants are invited to join tours with fixed date departures scheduled throughout the year, while private or tailor-made tours can be arranged for groups or individuals on request. The highly professional operation employs experienced cycle guides to lead all tours and has a fleet of well-maintained mountain and road bikes and support vehicles.
For more information and photographs please contact sally@spiceroads.com
Contact: Sally Hoare
Telephone: +66 (0) 2 381 7490
Email: sally@spiceroads.com
Web: www.spiceroads.com
Contact
SpiceRoads Co., Ltd
Sally Hoare
+66 (0) 2 381 7490
www.spiceroads.com

Contact