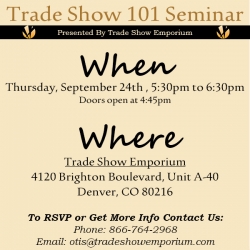 Denver, CO, September 16, 2015 --(
PR.com
)-- The experience of making a purchase is heavily aided by the ability to preview and personally examine the product in question. There are certain materials in which are easy to buy without personally touching or feeling the product, and those types of items are easy to buy online, never seeing the physical product in person, such as video-games or electronic devices. Other types of products almost require a physical examination or personal experience in order to make a proper decision, such as clothing or personally fitted devices. Somewhere between these two shopping situations lies the area of trade show merchandise.
Even if a client already knows what one wants, one may not be aware of what is actually best for executing a specific idea. Hundreds of thousands of choices are available when it comes to exhibiting, and within those choices, millions of options exist as well.
Trade Show Emporium will begin hosting its own informational seminars to help clients alleviate the stress of show preparation. The first seminar will take place on Thursday, September 24th, and doors open at 4:45pm and the seminar begins at 5:30pm. The first seminar will be entitled "Trade Shows 101, the 3 P's (Pre-Show, Present-Show, Post-Show)" and will provide valuable information on the entire process of designing a booth, executing a presentation, and how to capitalize on follow ups. There will also be an opportunity for attendees to ask questions.
In addition to the informational seminars, Trade Show Emporium is proud to provide its clients with a top notch showroom full of examples of the products they carry, accompanied by advice and free consultation from their full time sales manager, who offers a large amount of information through prior client experiences. Not only can a client confirm a product they've shown previous interest in first-hand, but they can explore alternative options regarding price, style, and personal experience at other shows from prior clients. The showroom and free in-house consultations are available Monday-Friday 9:00am to 5:00pm.
The first seminar will feature free food and beverages along with all of the pertinent information mentioned above, so to RSVP for the seminar or ask any additional questions just call or email the team at TSE.
Phone: 866-764-2968
Email: otis@tradeshowemporium.com