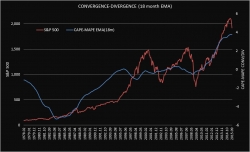 Washington, DC, September 17, 2015 --(
PR.com
)-- Two divisions formed, the Shillerites and non-Shillerites, arguing over CAPE's ability to take into account the effect of interest rates; especially the post 2008 monetary policy shift that influenced several movements in interest rates. MAPE is constructed by amending the CAPE ratio with three variables: inflation, long-term interest rate shifts, and foreign exchanges values. MAPE's intent is to correct the CAPE's measurement of stock market valuation affected by monetary policy.
CAPE is at elevated levels, although not at the highest historical overvaluation.
The comparison between the MAPE-CAPE graphs illustrates the P/E valuation divergence subject to the monetary policy shift. Moreover, the divergence between CAPE and MAPE ratios is at unprecedented levels and it reveals central bank policies' direct galvanization of prices. CAPE and MAPE valuations between 2004 till 2006 compared to 2010 to present represents these concerns.
The P/E divergence indicates the distorting effect monetary policies may have on asset class valuations. This would lead analysts to derive today that investors are being deceived by low interest rates and a low inflationary environment, making them believe stock markets are cheap.
To find out more about the MAPE and market valuation, visit thewallstreetchallenger.com/Index/valuation.html
The Wall Street Challenger is a prominent organization for global investment research. It is dedicated to provide original, insightful economies views, markets forecast, strategies and analysis identifying investment opportunities.