Design a Cycle Adventure with SpiceRoads
Take the stress out of planning your biking holiday with a custom tour developed by their travel experts.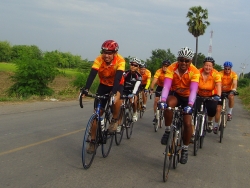 Bangkok, Thailand, September 22, 2015 --(
PR.com
)-- SpiceRoads Cycle Tours can help customers design their perfect cycle adventure, whether it is tweaking an existing itinerary, booking a standard tour on a different date or developing something completely unique. All tours are carefully personalized to needs, wishes and budgets.
"Tailor-made tours are not new to SpiceRoads: we have been customizing itineraries and designing specialist tours for many years. To highlight this service we have added holiday examples to our website to provide inspiration to riders for this personalize service," said Struan Robertson, CEO SpiceRoads Cycle Tours
What type of tours?
Private tours
Design a trip with family or friends: pick the distances, the hotels and include some other activities such as kayaking or ziplining.
Tour ideas:
A family adventure from Bangkok to Kanchanaburi
A Chiang Mai cycling and rafting adventure
A multi-country adventure through Southeast Asia
Cycle clubs
Cycle training and holidaying with club buddies where distances, activity levels or other activities can be custom designed.
Tour ideas:
Ride along the south coast of Thailand
Cycle from the northern tip to the bottom of Sri Lanka
Pre-season hill training in the countryside surrounding Chiang Mai
Charity adventures
Raise funds for a worthy cause while exploring a new country on two-wheels.
Tour ideas:
Biking, riding and trekking adventure across the Mongolian Steppes
Ride from Udon Thani to Chiang Mai
Cycle from the north to the south of Thailand
School camps
They educate kids on local cultures while encouraging fitness and healthy living.
Tour ideas:
Chiang Rai to Chaing Mai school adventure
A countryside ride around Koh Kret
Exploring Bangkok's "Green Lung" by bicycle
Corporate tours
Connect with work colleagues with a fun corporate team building event specifically for your company.
Tour ideas:
A mountain bike adventure in one of Thailand's many national parks
An evening ride through the historic sites in Bangkok
Bond while cycling from Bangkok to Phnom Penh
About SpiceRoads
SpiceRoads is a specialist bicycle tour operator based in Bangkok offering a range of two-wheel tours in 28 destinations worldwide. SpiceRoads tours cater for every level of cyclist and range from day trips to complete country explorations. Participants are invited to join tours with fixed date departures scheduled throughout the year, while private or tailor-made tours can be arranged for groups or individuals on request. The highly professional operation employs experienced cycle guides to lead all tours and has a fleet of well-maintained mountain and road bikes and support vehicles.
Contact
SpiceRoads Co., Ltd
Sally Hoare
+66 (0) 2 381 7490
www.spiceroads.com

Contact