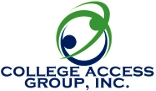 Lancaster, PA, October 02, 2015 --(
PR.com
)-- College Access Group, Inc., a nine year old 501(c)(3) organization rolls out 6 web sites available to schools, parents, and families of college bound students.
College Access Group is 100% self-funded with no grants, contributions or advertisements.
"I checked out the site a couple of times today and I am very impressed with the comprehensiveness. After I would sign out, I would think of another feature that would be helpful to us and to parents, then sign back in to find out that it is already there. Very impressive. Michael Dougherty Principal/Director of Guidance Regional High School, Hunterdon County, NJ."
College Access Group is offering to the public all of the following:
Collegeplannerornot.org
This site discusses the college planning business and helps the family decide if they should go to the expense of hiring a college planner.
Cosigningparent.org
This site discusses the financial ramifications of parents cosigning loans for their children.
Fafsafilers.org
This site discusses common mistakes made when filing the FAFSA and the CSS Profile.
Freecollegeplanner.org
See behind the scenes of what college planners do, how they charge and the information that you can receive from them. Get that information here for free.
Gladgrad.org
This site discusses grants, scholarships, and scholarship scams. The goal is to make that graduate happy by minimizing the debt load. It also includes a proprietary merit grant search.
Plusorprivate.org
This site goes into detail about the PLUS loan program as well as the private student loan industry.
About: While staying fiscally sound, we will do all that we can to educate as many children and parents of college bound children about the migration process from secondary to post-secondary education.
Contact:
Keith Landis
2keithlandis@gmail.com
717 940 8394