Björn Lyckström from Åkers Joins Shapeline Board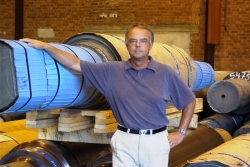 Linkoping, Sweden, December 13, 2007 --(
PR.com
)-- Shapeline, the rapidly growing Swedish high tech company, has recruited Björn Lyckström to the Board of Directors in order to come closer to its customers.
"Having access to the experience, knowledge and network of Mr. Lyckström gives Shapeline advantages that many larger and older companies do not yet have," says Shapeline CEO, Pär Kierkegaard, PhD. "Already, in our first planning sessions Mr. Lyckström has given valuable input on how we will prioritize markets and customer segments, and on how we can protect our intellectual property in high risk projects. With Mr. Lyckström aboard, we have gained more years of experience than what would have been possible otherwise. I, the rest of the company and the Board wish Mr. Lyckström a very warm welcome to the Shapeline team."
Björn Lyckström graduated from the Royal Institute of Technology in Stockholm in 1968 with a Masters of Science in Metallurgy. He has since become a well-known profile in the Swedish and international steel making industries.
His previous positions include: Plant Research Engineer at the Scana Björneborg Steel plant; Section Manager Steel Plant Research at the SSAB and Department Manager; and Steel Foundry Manager at the Bofors Steel Division.
In the last 27 years, Lyckström has been active at Åkers, a world-leading manufacturer of cast rolls. Between 1980 and 1995, he held the position of General Manager Technology at the R&D Department. Between 1995 and 2000, he was General Manager Marketing & Sales, and between 2000 and 2004 he was Director of International Sales. His latest position within Åkers was as Product Manager Hot Strip Mill Work Rolls. In these different roles, Mr. Lyckström has been a key player in establishing Åkers leading position on the market.
About Shapeline
Shapeline AB is a privately owned company based in Linköping, Sweden. The Shapeline solution for measuring the flatness of metallic products (plates or strip) is technically on the frontline. Not only will the metal producers that use the Shapeline system be able to verify and document the flatness of the products delivered – by measuring flatness in different phases of the production - costs are saved too. For more information please contact Pär Kierkegaard, pk@shapeline.com or visit their homepage at www.shapeline.com. Shapeline credit worthiness is given the highest rating possible, AAA, by the Dun & Bradstreet Nordic partner.
###
Contact
Shapeline AB
Par Kierkegaard
+46 13 37 70 90
www.shapeline.com

Contact